Newsletter: December 2019
---
---
This month, we continue to remember our Music Director Laureate, Raymond Leppard. Many of our current and retired musicians wanted to share their stories and feelings about a man who shaped their musical careers and their lives for his entire tenure as music director and beyond it.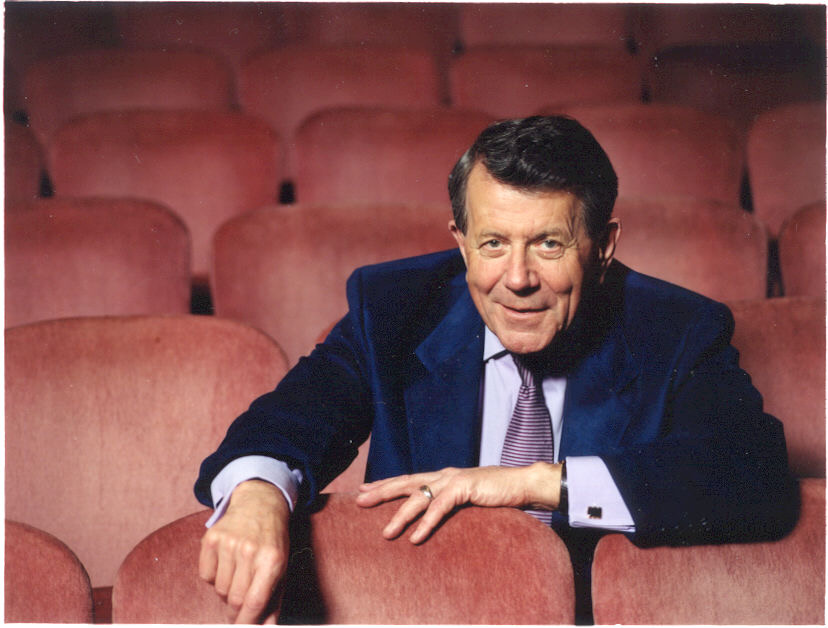 Here are some remembrances from a few of us:
Karen Moratz, Principal Flute (1989-Present):
Raymond always put the music first, regardless of the circumstance, but never forgot to imbue the experience with his own special warmth and droll humor.

After Raymond was named Conductor Laureate of the ISO, we corresponded via occasional notes and letters. We would speak of how putting pen to paper is so very different from typing on a computer. I cherish those letters.

These connections are never truly lost. Raymond's musical legacy – as well as his personal one as a mentor, as a cherished colleague, and as a human being – will live in our hearts forever. [Read more here.]
Dinah Montgomery, First Violin (1975-2015), and Jerry Montgomery, Third Horn (1980-2018):
We are so fortunate to have known Raymond Leppard as our music director, chamber music coach, and as our cherished friend. He taught us diligence and persistence in music and patience, tolerance, and forgiveness in life.

We will forever hold on to the memories of sharing musical moments and also the shared meals, wines, martinis, and conversations filled with his insight and wit. Visiting "Costly Corners" (Costco) and "Pal Joey's" (Trader Joes) will always bring out a hearty chuckle!

You've filled our lives with so much joy! Farewell, dear friend. We miss you, but are so grateful for our times together!
Theresa Langdon, Viola (1979-Present):
Maestro Raymond Leppard was a strong link in a chain of gifted and dedicated musical leaders here in Indianapolis. We are grateful for all he did to create and promote magnificent classical music through the voice of the Indianapolis Symphony Orchestra.

He also inspired us with his skill on the harpsichord, and we violists were all aware that at one time in his career, he was one of us.
Jill Boaz, Fourth Horn (1990-Present):
I played the fourth horn job for two years under Raymond before winning an audition to keep the job permanently. After I won, Raymond announced to the orchestra that "we have made an honest woman of Jill Boaz." He was so witty and intelligent.

He also conducted us for a concert during the 2012 lockout, and it was a very emotional experience to see him standing up for us this way.
David Bellman, Principal Clarinet (1981-Present):
When Raymond arrived, it was clear that a momentous era was starting in Indianapolis. I can vividly remember to this day listening to the orchestra from the audience in one of Raymond's first concerts with the ISO, which exuded a very special excitement and sparkle that really moved me and made me very proud to be a part of this ensemble under his leadership. My own playing and teaching is still informed by the style that Raymond passed down to our orchestra.

Learning and performing some of the great English repertoire (especially that of Edward Elgar) made a long-lasting impression on me and many colleagues in the orchestra. And we enjoyed learning some charming expressions that he would employ in rehearsals such as "That sounds a bit lemony, don't you think?" and "Those low notes sound a bit like cowpats," and the ever present "That phrase sounds like a C Major Sausage!"

As ISO musicians we have been especially impressed with Raymond's continued support and advocacy for our orchestra long after retiring as Music Director. It is difficult to believe that we have lost Raymond. I will always remember him as a great musician and conductor as well as a true friend to the ISO and to our city.
Roger Roe, Assistant Principal Oboe, English Horn (1995-Present):
When I was in college, one of my favorite recordings was Telemann and Handel sonatas for oboe and harpsichord, played by Marilyn Zupnik and Raymond Leppard. I listened to it so many times that I wore out my cassette tape. I didn't know that music could dance that way, so easily and so very lightly.

It would be several years later that I found myself on the stage of the Hilbert Circle Theatre accepting a job offer from Raymond after my audition. I could hardly believe my good fortune. He was one of my heroes, and he said to me, "My dear, you are a poet on the English horn. Well done today."

In the years to come, Raymond would teach me a great deal about style and ease and phrasing. I still think of him every time I play or teach Mozart. I really didn't understand Classical articulation or style until I worked with him. Little did I know, he would also teach me about good wine and how to use escargot tongs, among other things! Indianapolis is much richer for his years here, and we are achingly poorer without him.
Anne McCafferty, Cello (1973-2018):
Music, mirth, merlot, martinis, meals – so many memories of Raymond Leppard. Prior to coming to the ISO, I was part of a performance of Monteverdi's L'Incoronazione di Poppea. I couldn't possibly have imagined how entwined my musical and personal life would become with that of Raymond Leppard, whose scholarship made that performance possible.

Arriving in Indianapolis in 1987, he energized the orchestra and rallied the community with his passion for the orchestra, its musicians, and the city. I mourn the musical questions left unasked, and I will miss his melodious greeting, "Hello, Annie dear," but it remains vivid in my memory.

My husband, cellist Dennis McCafferty, and I felt so fortunate to share many cherished musical moments with Raymond as well as meals, merlot (for me), and amazing martinis (according to Dennis) with Raymond and his husband, Jack Bloom.

Allow me to echo the phrase he always uttered as we went to rehearsal break, "Let's all have a cup of something delicious" and celebrate the gift of Raymond Leppard!
Hidetaro Suzuki, Concertmaster (1978-2005):
Prior to being appointed Music Director of the ISO, Raymond Leppard guest-conducted a program at Clowes Hall that included me as soloist of a Prokofiev violin concerto. Rehearsing with Raymond at the keyboard was immediately revelatory that he was a musician with keen ideas and two very fine ears. Later at the podium, we were all charmed by his wit, his knowledge, and his sincerity. In no time, the musicians responded with high respect and a willingness to be educated by him and have him become our Maestro. It was uplifting!

He then invited my wife Zeyda and me to join him and Lolly Ramey, who was his guide on this first visit, for lunch "al fresco." Thus began our loyal and generous friendship with this prince of a man who utterly loved Life and Music, and later, bound him for life to the good musicians of the ISO and the city of Indianapolis.

Rest in peace, Maestro Leppard. We shall miss your wise guidance and warmth forever, and we shall pronounce Don Quixote as "Don Quick's Oat," thinking of you with delight.
Thank you all for your lovely stories about a wonderful musician and man. We will all miss him dearly.
---
Switching gears, this week marks the second week of Yuletide, and we are thrilled to see so many of you out in the hall enjoying the show!
But all that playing this month makes us anxious to get outside and move around, despite the cold temperatures! On Thanksgiving morning a group of musicians and staff ran in Wheeler Missions's annual Drumstick Dash.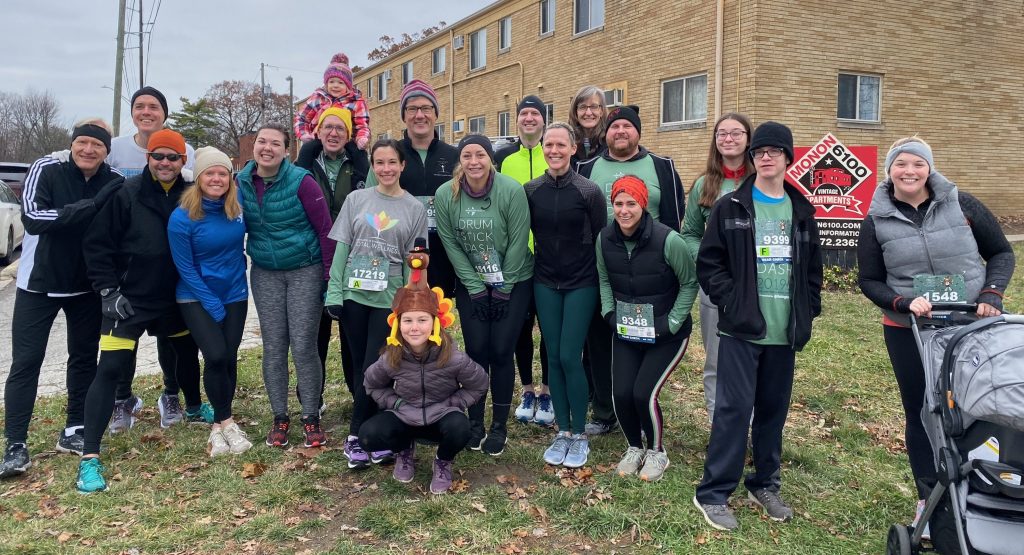 All proceeds from this race provide meals and care for homeless men, women, and children in the Indianapolis community, and the ISO team raised over $500, putting us in the top 15 fundraisers for the event!
There were two options for race length, 2.75 miles and 4.6 miles, and runners from our group participated in both. A number of us broke personal records, while Jennifer Christen, our principal oboist, won the women's category in the 2.75 mile race! Congratulations to all the runners who participated in 2019's Drumstick Dash!
---
Finally, if you're throwing a party this holiday season and need an idea for an adult beverage, why not try out a new libation created this fall to celebrate four new members of our orchestra, Tim McCarthy, Alison Dresser, Ivy Ringel, and Bert Witzel!
It's traditional for us to hold a welcome party when new members join the orchestra, and we try to get creative with a themed cocktail to go along with our potluck. This fall's version is a variation on the classic Manhattan and is named Just A BIT (as in, Alison, Bert, Ivy, and Tim).
Just A BIT
2 oz. Bourbon
3/8 oz. Luxardo Cherry Liqueur
3/8 oz. Sweet Vermouth
Two drops Chocolate Bitters
One drop Orange Bitters
Mix all the ingredients and serve over ice with a garnish of your choice. Enjoy, and please drink responsibly this holiday season!