Spotlight on Tim McCarthy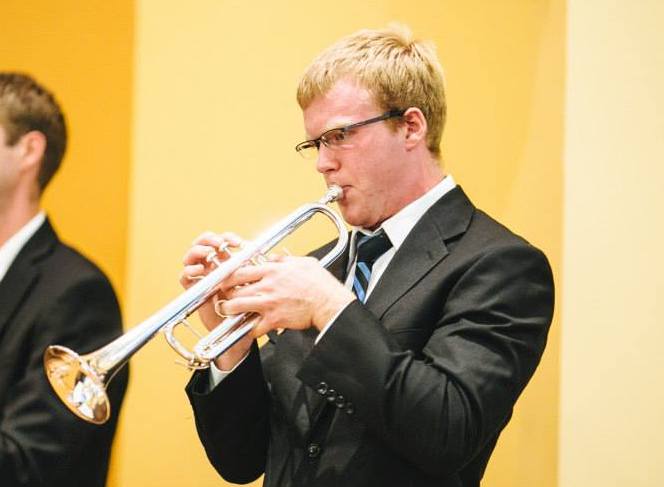 Assistant Principal trumpet player Tim McCarthy is a native of Brush Prairie, Washington and joins us as we open the 2019 season. He completed his studies at St. Olaf College, Arizona State University, and Southern Methodist University. Tim sat down with us for an interview shortly after his first season started:
How did you decide on Trumpet?
I started playing trumpet in band in 6th grade. My uncle was a professional jazz trumpet player with the Falconaires (Air Force Academy Band), so he helped me get started on trumpet and continues to be a big influence. 
One of the horns you're playing on currently has a special story. Can you tell us about it?
My B-flat trumpet was the first horn my teacher, Ryan Anthony, played in Canadian Brass. Mr. Anthony is Principal Trumpet Emeritus of the Dallas Symphony, and played with the Canadian Brass from 2000-2003. He has been a huge inspiration to me and many others, and this instrument is very special.

Mr. Anthony was diagnosed with Multiple Myeloma, cancer of the bone marrow and blood, in 2012 and has undergone several stem cell transplants. He started The Ryan Anthony Foundation, a 501(c)(3) nonprofit organization that uses music to promote cancer research. The concerts, called "CancerBlows," are an important vehicle for musicians and audiences to unite in finding a cure.

Mr. Anthony has had a great impact on me and my playing, and I feel honored to play an instrument that he used in the Canadian Brass. If you are interested in more information about Cancer Blows and the Ryan Anthony Foundation, check out the official Cancer Blows website.
What's getting heavy play in your music library right now?
I have been obsessing over this 2016 New York Philharmonic recording of Sibelius Symphony No. 2 in advance of our upcoming performances. It is such a beautiful piece that includes melodies and moments for each section to shine. This particular live recording showcases the incredible NY Phil brass, especially in the finale.
Do you have a favorite on-stage memory?
One favorite memory is playing the Nutcracker with Phoenix Symphony, conducted by Jeffrey Meyer. It was special because the first time I played in an orchestra was at a summer festival in high school, performing Tchaikovsky 5 with Meyer conducting. That was when I decided I wanted to play in a professional orchestra, so it was very cool to once again be playing Tchaikovsky with Meyer, ten years later in a professional setting.
What do you do when you're not playing in the orchestra?
I love having projects to work on in my free time. I found some apple trees on an empty lot near my house, so I built an apple grinder and cider press for making cider!

I am a home brewer, and I enjoy outdoor activities. I have spent the last six summers in Alaska fishing for salmon, and have worked on commercial fishing crews several times as a summer job.