Karen Moratz Remembers Raymond Leppard
When I took the audition for Principal Flute with the Indianapolis Symphony Orchestra and Maestro Leppard in 1989, I was not aware of a series of coincidences that almost seem to have brought me to the ISO of their own accord. My flute professor in Freiburg, Germany, for 1984-86 was British flutist William Bennett (aka Wibb), who had embarked on his legendary orchestral and solo career with London's top orchestras around the same time that Raymond Leppard was conducting the English Chamber Orchestra. Raymond and Wibb worked together quite a bit in London in those days, and although this connection didn't reveal its significance to me until I had actually won the ISO audition, it only seemed fitting as I look back now that I, as Wibb's pupil, would become the Principal flutist of the ISO during Raymond's second season as Music Director.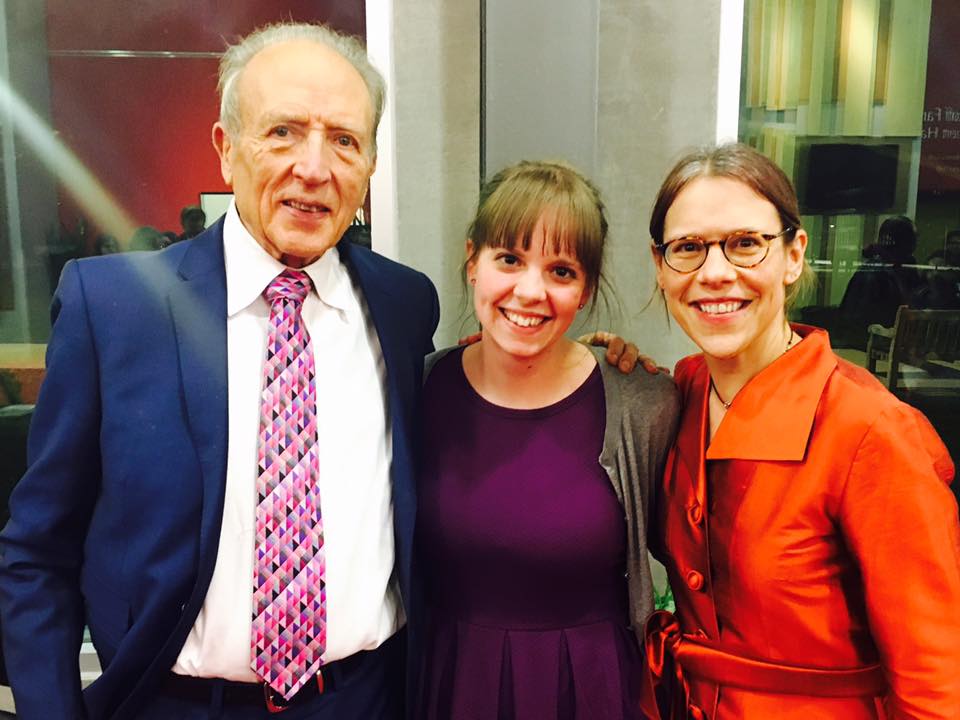 I came to Indianapolis from Miami, Florida, where I was participating in the first season of the New World Symphony under the baton of Michael Tilson Thomas. It was (and still is) a training orchestra that enjoys a worldwide reputation as a pre-professional preparatory ensemble. At the time, MTT was the Principal Conductor of the London Symphony Orchestra and was also very familiar with Wibb's playing. So even before I came to Indianapolis, I had some sort of connection to London, although I had only ever visited the city briefly.
Every time I spoke with Wibb on the phone, he would ask me how Raymond was doing and send his fond regards. Raymond would cheerfully reciprocate, as one might imagine. Eventually, the two of them did work together again at a summer festival in the UK, with Wibb playing Mozart's Concerto for Flute and Harp. They both enjoyed the reunion immensely, which I heard from both of them. 
Raymond and Wibb both told me about the flutist Richard Adeney, whose name is not widely known but who inspired a generation of flutists, including Wibb and James Galway. Apparently the two would sit together and listen to recordings of Richard Adeney, hoping to play as well as he, someday. Similarly, of course, my classmates and I were listening to recordings of Wibb and Sir James!
A few years ago, Raymond gave me a treasured cassette tape recording of Richard Adeney playing Mozart's Concerto in D and Andante in C with the English Chamber Orchestra, which I found very inspiring. Mr. Adeney passed away in 2010, not long after publishing his autobiography ("Flute: an autobiography," Brimstone Press). When I received my copy, I immediately looked for Raymond Leppard's name in the index. As one would expect, I found some marvelous stories. The following is one of my favorites from Adeney's memoir, and says all you really need to know about Raymond Leppard:
"I played often with Raymond Leppard when he conducted the ECO, and also as a duo team with him, when he was the piano or harpsichord accompanist. I enjoyed this enormously. Because he had good musical ideas and was more bossy, he, the nominal accompanist, was actually the leader.

…Later, we did a series of Bach concerts in St. John's, Smith Square, which included all the flute sonatas. The BBC recorded them…. During the time of these concerts, Raymond's beautiful early-nineteenth-century house in Hamilton Terrace caught fire and the Steinway upstairs fell through the collapsed floor on to the harpsichord below. His new curtains and décor were destroyed. Firemen saved the stairs and the top-floor bedrooms, but the bedrooms were unusable because of the strong, lingering smell of smoke. Raymond was astonishingly calm about this: no fuss, no complaints, just getting on with rehearsing and playing. Admirable, I thought. During the next Bach concert after the fire, I smelt burning, so between movements of a sonata, fearing that the hall was on fire and realizing that the BBC's microphones, were live, I whispered to him nervously, "What's that smell?"

"Yes, I know what it is"' he said. "It's my socks; they were in my bedroom during the fire and they're giving off the smell." …because of the audience and the microphones, this seemed irresistibly funny.
To me, this is quintessential Raymond. A consummate professional, he made it all about the work. Raymond always put the music first, regardless of the circumstance, but never forgot to imbue the experience with his own special warmth and droll humor.
After Raymond was named Conductor Laureate of the ISO, we corresponded via occasional notes and letters. We would speak of how putting pen to paper is so very different from typing on a computer. I cherish those letters.
On the occasion of Raymond's 90th birthday celebration, I was in Minneapolis at the National Flute Association's annual convention, celebrating Wibb's 80th birthday at a lovely reception. That day, Wibb and I phoned Raymond and sang Happy Birthday to his voicemail.
These connections are never truly lost. Raymond's musical legacy – as well as his personal one as a mentor, as a cherished colleague, and as a human being – will live in our hearts forever.