Spotlight on Karen Moratz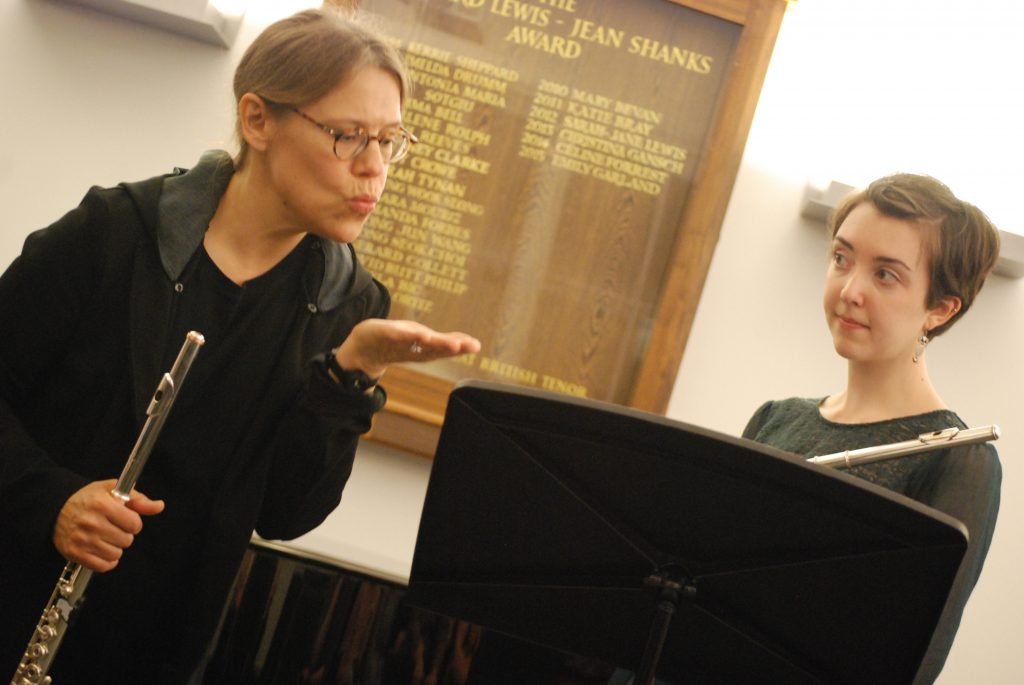 Karen Moratz has been principal flute of the Indianapolis Symphony Orchestra since 1989. In addition to playing in the ISO, she holds the title of Artist in Residence at the Jordan College of the Arts at Butler University and is also the author of Flute for Dummies.
Although she was born in Pasadena, California to German immigrant parents, her father's work as a mechanical engineer meant that the family moved around extensively. As a result, Karen attended primary and secondary school in a number of different locations: California, Massachusetts, Indiana, upstate New York and Germany.
Karen received a Bachelor's degree from the Peabody Institute of the Johns Hopkins University in Baltimore, Maryland and a Master's degree from the Musikhochschule Freiburg in Breisgau, Germany. We interviewed her in February of 2020:
How did you first decide to start playing flute?
When my family lived in Germany in the late 1960s, my brother and I started taking group recorder classes. I fell in love with playing music on my recorder, so the teachers of the class told my parents that it would be a good idea to choose a woodwind instrument for me to play. When I turned ten, there were two used woodwind instruments available in the small town in Massachusetts where we lived: a flute and a clarinet. My parents asked a technician to assess the instruments. The clarinet was in terrible shape, but the flute was in good repair, so I got the flute! 
You play on a specialized flute. Can you tell us about it?
The flute I perform on the most is made by David Straubinger, a world famous flutemaker who lives and works right here in Indianapolis! He custom made the instrument according to my specifications, which I developed with the help of several sources including one of my teachers, William Bennett (Wibb).

The joints and tenons on this instrument are interchangeable with another instrument I own, a Brannen Brothers flute that has slightly different specifications, so I can mix and match two flute bodies and footjoints with several headjoints made by Miguel Arista and J.R. Lafin that I also own, to suit the response and sound I want for any given piece of music. 
Do you have a favorite piece of music currently?
Usually, the answer to this question is "Whatever piece I'm playing this week!"

But I am particularly fond of anything by J.S. Bach or Mozart. My own last name is an anagram for Mozart! His music demands depth, intelligence, humor, personality, and a lot of heart from the performer, as well as years of study.

Bach's music is timeless, and its structure as well as its beauty astonishes me every time I play or hear it. I find something new every time.
Do you have a favorite memory of something that happened on stage?
I particularly enjoyed performing at the ISO Gala concert in 1989 with legendary flutist Jean-Pierre Rampal and our flute section, with Raymond Leppard conducting. Rampal played a concerto by Johann Stamitz, after which he and I performed the Rigoletto Fantasie by Doppler.

Our second flutist at the time, Philip Sample, then joined us for Maestro Leppard's arrangement of Pachelbel's Canon for three flutes and orchestra. Then Becky Arrensen joined us for a movement of a Reicha quartet. We had the most marvelous time showcasing the flute!
What's something that people might not know about you?
I'm fluent in German and I love languages. I speak a little bit of French as well, and I studied Latin when I was in middle school. I also practice and teach yoga (certification E-RYT 200 with the Yoga Alliance), which gives me a chance to learn a bit of Sanskrit on an ongoing basis as well.
Thanks for telling us more about yourself, Karen!