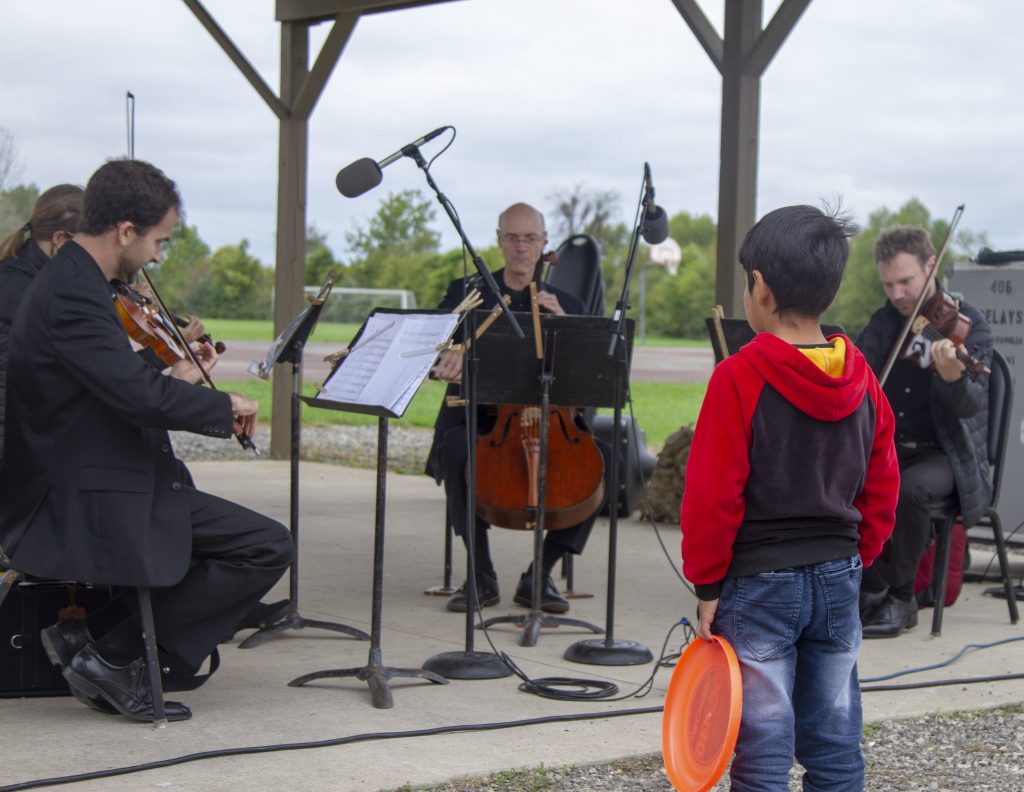 October 8, 2022, CAMP ATTERBURY, INDIANA: Eight Musicians of the Indianapolis Symphony Orchestra performed for several hundred Afghan refugees, on the morning of Tuesday, October 8, at Camp Atterbury, Indiana, where thousands of refugees are being housed as part of Operation Allies Welcome. Horn players Rob Danforth, Rick Graef, Alison Dresser, and Jill Boaz played classical and jazz-style horn quartets as well as arrangements of Appalachian folk songs on a lawn outside the north barracks, while Peter Vickery, Lisa Scott, Zak Collins and Perry Scott played string quartet arrangements of traditional Afghan folk songs in an outdoor picnic shelter near the south barracks.
A chain of ISO musicians and staff joined forces with Atterbury personnel to bring the concerts into being, starting with Principal Flautist Karen Moratz, who suggested in early September that a concert would be a good way to reach out to support the refugees. Associate Principal Violist Amy Kniffen and Principal Hornist Rob Danforth enlisted players to form the two quartets, and Amy obtained donated string quartet arrangements of traditional Afghan songs from Indianapolis native violinist William Harvey (currently concertmaster of the National Symphony Orchestra in Mexico). "It means a lot to me that you could play these songs for the Afghan refugees," William wrote in an email.
Amy alerted us to William's remarkable work playing solo violin for first responders on 9/11, when he was a student at Juilliard, and his founding of 'Cultures in Harmony, USA,' as well as his professorship of music at Afghanistan National Institute of Music (for more information on William Harvey's remarkable career, see http://culturesinharmony.org/william-harvey).
"When Karen brought the Atterbury refugee concert idea to my attention," says Amy, "I began to imagine myself as a refugee in a foreign country, possibly separated from my family, and probably heartbroken. There's so much that I can't imagine, but it would mean a great deal to me to hear familiar music in my 'heart language,' the one with which I grew up.
"That's why I thought of William Harvey. I'd read his account of how playing for 9/11 first responders near ground zero brought him to the sudden realization, from his immersion in the hyper-competitive environment of Julliard, that music could be a powerful healing force. It changed his life and career. Music is a means by which you can communicate directly with another human being. I wanted to offer respect for the Afghan refugees and their rich culture, human to human."
Stephanie Hays-Mussoni, ISO Vice President of Development, teamed up with Beth Windisch and Jeremy Goldsmith of the Department of Homeland Security to coordinate security clearances and other logistical issues, and US Army photographers Jennifer Pendleton, 14th Public Affairs Detachment and Sgt. Dylan Bailey, 7th Mobile Public Affairs Detachment captured photos and video of the event.
Alan Alford, ISO Stage Technician and Kit Williams, ISO Stage Manager set up and ran the sound system at both concert locations. Without amplification, the music could not have adequately reached the hundreds of Afghan people gathered in the open fields outdoors on that cool, windy morning.
"I was really grateful to our stage crew guys," notes Rob Danforth. "They organized things before, during, and after the event that allowed us to concern ourselves only with playing."
Atterbury staff took advantage of the large gathering and ISO's sound system to make pre-concert announcements about prenatal and infant care, translated into two languages by young female interpreters.
"As we unloaded the equipment truck," Alan recounts, "Everyone proved very helpful: refugees, Homeland Security, and Military personnel, all of whom stepped up. As I watched the audience during the concert, I saw a fascination for the horn quartet music being played, and I wondered if this might be a first-time experience for the listeners.
"After the performance, I was asked if I could broadcast some Afghan music through our sound system. Since we had some time, I gave one of the Afghan men our microphone to hold up to one cell phone after another, as the refugees cued up favorite songs and handed him their phones. A lot of dancing, laughing and chatter ensued for the next thirty minutes, as we waited for the ISO truck to return from the other site.
"Many of the refugees were clearly on friendly terms with military personnel, whom they urged to join the dancing, pulling them by the arm. Several did! Such a positive experience all around. When I reluctantly gave the 'one more' sign and powered off the equipment, the dancers were disappointed, but they expressed a great deal of gratitude. Many asked, as did military personnel, to help us with the breakdown and loading of the equipment onto the truck.
"I found the experience very enlightening, and I hope that the refugees can soon find a community in which to live without fear, and full of harmony."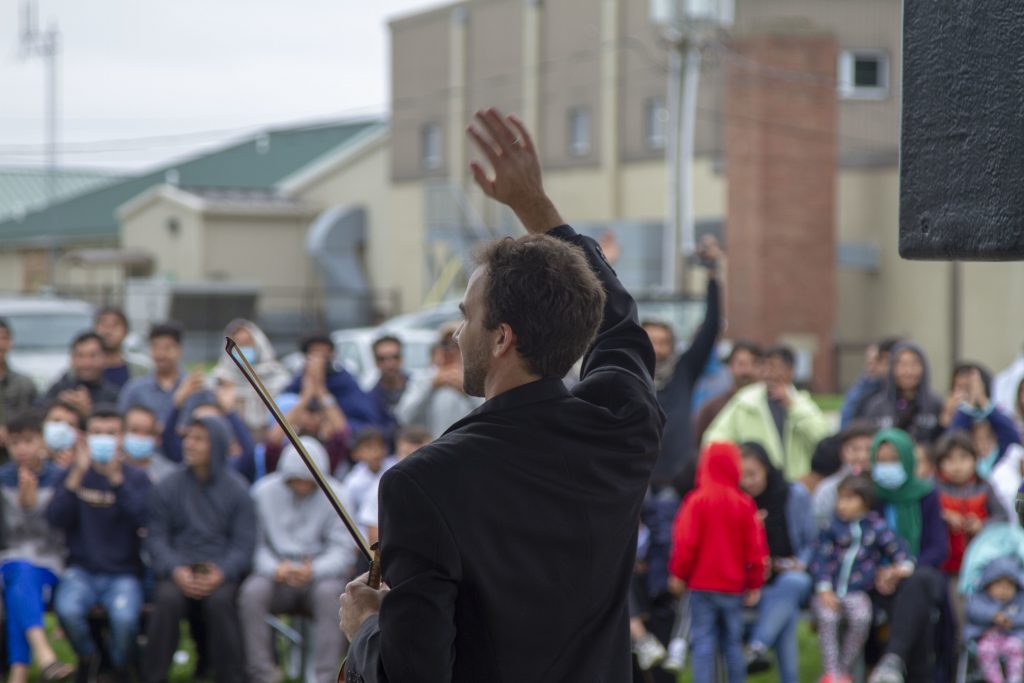 ISO Assistant Concertmaster Violinist Peter Vickery offered a prayer for the safety and well-being of the refugees as the quartet played an arrangement of The Prayer, by David Foster. He invited the group's translator to take the microphone and sing the traditional Afghan songs with the quartet, which he did with great flair, leading the audience in singing and clapping.
"The music we played really made a connection with the refugees," said Peter. "I was told by someone assisting us that she hadn't seen the refugees ever smile so much. When I saw their joy and response, I was reminded of the power of music to reach across language and cultural boundaries, and it brought joy and meaning to me personally — it is more blessed to give than to receive."
Violist Zak Collins shares, "Many of the refugees stayed after the concert to see our instruments and talk with us. We shared only a few words in English, but after having shared music together, we felt no awkwardness or disconnect. Several people asked us to come back and play some evening, so they could dance to the music, and some indicated they knew how to play musical instruments themselves.
"After having just experienced a long period of time when we were unable to perform for live audiences, and, before that (as a violist training for a music career), having been for many years pursuing the unattainable goal of perfection in the most minute details, I found the Atterbury concert to be a humbling reminder of the real purpose of music, and the power it has to lift our spirits and reveal the connection we all share."
Second violinist Lisa Scott had just packed up her instrument when a group approached and one man pointed to a young girl, saying, "She wants to hear you play. Just you, by yourself." So, Lisa played a few phrases of one of the Afghan songs, as the group crowded around, asking about the violin and when the musicians would return. Several audience members posed for selfies with the quartet; as the musicians and crew packed up to leave, Beth Windisch, of Homeland Security, remarked that music had truly shown itself to be the universal language that day.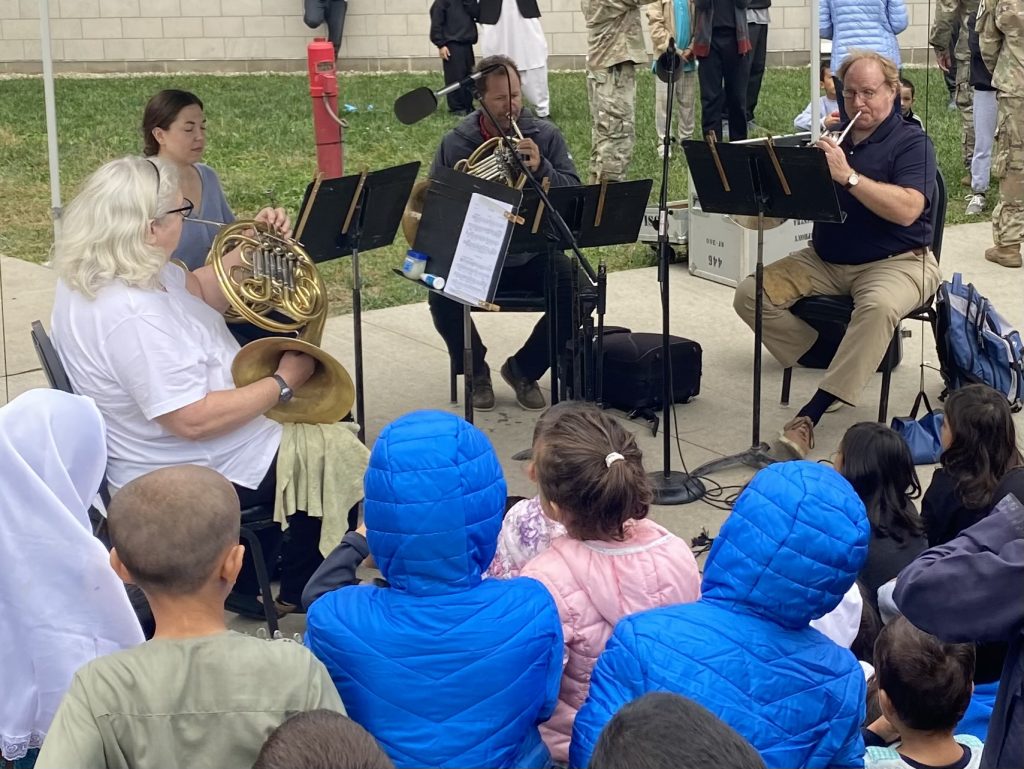 Musicians left Camp Atterbury gratified to have provided an hour of entertainment, and maybe even something deeper. Yet, from the little girl who kept repeating, "Come back tomorrow" to the man asking for donation of any kind of musical instrument ("Afghan people love music") to the rapt expressions on listeners' faces, we felt the need to do more. How to expand and deepen our reach is one of the questions being talked about at the ISO, as we emerge from the pandemic with renewed energy, seeking to serve all sectors of our community.