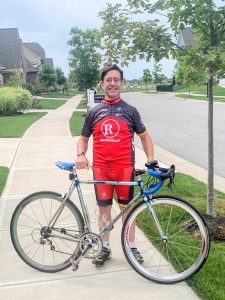 by Robert Goodlett, Assistant Principal Bass
In August of 2020, I was contacted by the parent of a former private student who is a cyclist and who knew of my activities on the bike. She suggested that maybe I would want to participate in the Great Cycle Challenge which is a fundraiser for the Children's Cancer Research Fund. It sounded like a good idea since we weren't performing regularly with the ISO, and I had a lot more free time. I also needed a push to get more fit and find a way to deal with the COVID-19 isolation that was imposed on everyone.
I decided to try for 500 miles in the month of September and went about soliciting donations from friends to support my riding to beat cancer for kids. I enlisted a few other musician friends and together, we formed a small team. I ended up riding 600 miles actually and got a little bit leaner at the same time.
In July of 2021, I found out that one of my private bass students had been diagnosed with osteosarcoma, a rare bone cancer that attacks teens and young adults. I immediately committed to doing the Great Cycle Challenge again this year, but I wanted to make a bigger impact not only for my student, but all kids who suffer from these cancers.
This year, we formed a bigger team effort and we built a team called Musicians Fighting Against Children's Cancer, consisting of the following members:
Lisa Scott – ISO Second Violinist
David Bellman – retired ISO Principal Clarinetist
Matthew Harrod – Band Teacher at Riverside Junior High School in Fishers
Paul Krasnovsky – retired Choral Conductor at University of Indianapolis
Andrew Goodlett – bassist with the Winnipeg Symphony Orchestra (and my son)
Sharif Ibrahim – one of my former students and Graduate Student at Indiana University
Together we raised $5,206 toward children's cancer research.
Starting on September 1, I began riding on a beautiful day to get started on my goal. I managed to get in 32 miles in about 2 hours and it felt really good. Later that evening I found out that my student who had been diagnosed in mid July had passed away. That was such a gut wrenching feeling. I became more determined to finish my riding goal and to help raise funds for this work to defeat cancer in children.
Today, as I write this, it is September 30th and I have just finished my 300 mile goal on a two-hour ride which took me north of Sheridan, IN. I have many mixed feelings: I am happy that I could contribute something to a cause that will help many children, but also feeling the loss of my student and knowing that there are many other families who have lost children to cancer.
We must all live every day as best we can and enjoy every opportunity to find beauty and show compassion to others.
For more information about Robert's Challenge, visit https://greatcyclechallenge.com/Riders/RobertGoodlett