Spotlight on Becky Arrensen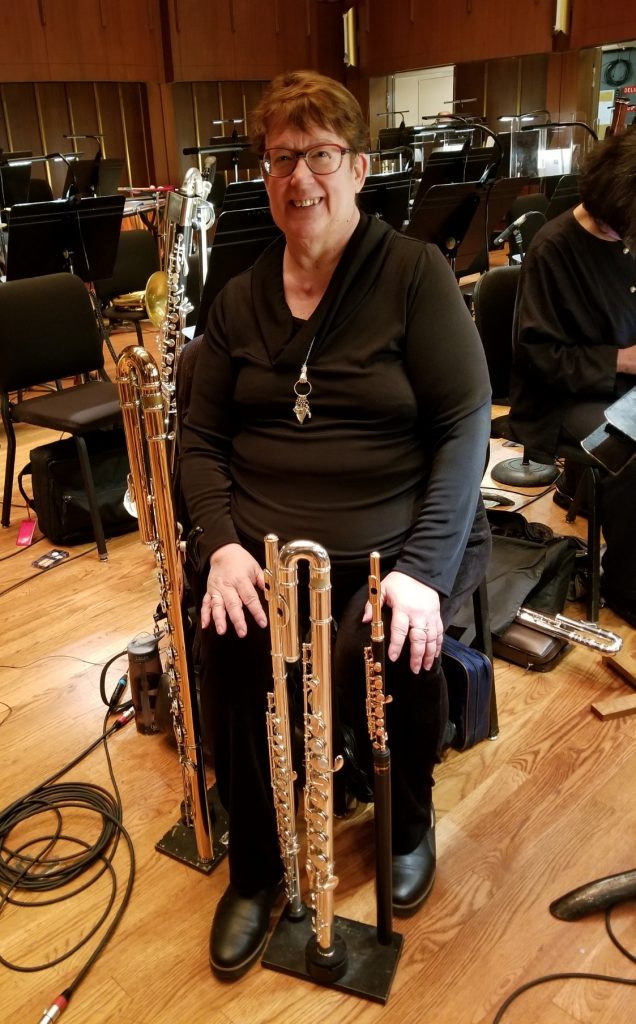 Becky Arrensen has been Assistant Principal flutist and piccolo player for the Indianapolis Symphony Orchestra since 1983. She is originally from Atlanta (a true Georgia Peach!), and grew up in a musical family. Becky's father was Second clarinetist with the Atlanta Symphony for eleven seasons, and for the remainder of his career he was a passionate music educator, teaching instrumental music in elementary and middle school.
Becky earned an undergraduate degree in music performance from the Jacobs School of Music at Indiana University, and began a Masters degree in music performance at Northwestern University, at which point she won the ISO audition and immediately moved to Indianapolis.
Hi Becky! When did you start playing the flute and why did you pick it?
My first instrument was a soprano saxophone, which I started at age five. I always wanted to play the flute, but my sister already played the flute, so my dad said that I had to pick a different instrument. I couldn't pick the clarinet, because my brother was already playing that, so I chose the saxophone! However, my sister never practiced, so when she wasn't looking I would get her flute out and play it.

One day my Dad came home with a flute that he was trying out for one of his students. I kept bugging him that I wanted to play the flute so he handed me that flute and told me that if I could play it, he would buy one for me. Since I had sneaked in all that practice time with my sister's flute, I was certainly able to! After he picked his jaw up off the floor, he agreed to get me a flute, and I had one the very next day.

The agreement was still that I had to practice saxophone for a half hour each day before I was allowed to play my flute. I set a kitchen timer for that half hour, and to the minute, I always switched right to my flute and played it for hours! I was in the fourth grade at the time.  
That's a great story! Can you tell us about your current instruments?
My current piccolo is very special. It is a Burkart Classic Elite grenadilla wood piccolo with a 14k gold mechanism. Wooden instruments have a lot of personality to begin with, owing to the nature of wood itself: every piece of wood resonates differently.

When I walked into a showroom at the National Flute Association convention in Minneapolis, MN a few years ago, the first thing that caught my eye was this piccolo. It was the first day of the convention, and not many people were there yet, so I was the first one to try this particular instrument, and the minute I played it, I fell in love!

I immediately bought the piccolo from Lillian Burkart, the maker, and she marked it as sold so that she could exhibit it over the course of the convention, as it was the only one of its kind she had with her. Apparently, over the next four days, many people who tried out that instrument wanted to buy it, but thankfully it was already mine! It feels so smooth when I play it! 
What is your favorite piece of music currently?
One of my all-time favorite pieces of music is the fourth movement of Mahler's Symphony #2, "Resurrection." The ISO performed it in the 1980s with John Nelson conducting and Sylvia McNair singing the soprano solo. It was sublime! That movement is called "Urlicht," which translates to "Primal Light," and it illustrates the longing for relief from worldly woes.
Do you have a favorite memory of something that happened on stage?
I was featured playing Cimarosa's Concerto for Two Flutes and Orchestra with Jean-Pierre Rampal on a pension benefit concert conducted by Raymond Leppard during his first season as Music Director of the ISO. It was such a festive atmosphere, and collaborating with one of the world's most famous flutists realized a lifelong dream for me.
What's something that people might not know about you?
I am an avid quilter! One of my passions is a cancer quilt project that I established with my mom, since we are both breast cancer survivors. We call the project "Becky's Blankets," and my friend Stephanie Brokaw donates her long-arm machine quilting services as well. We donate the quilts to my oncologist's office to distribute among his patients as a goodwill gesture, because I remember how cold I got during the treatments!

Lately, I have also been sewing many protective face masks for many of my friends and for my children's co-workers on request.
Thanks, Becky! It's great getting to know you better and we are looking forward to hearing your special piccolo in Hilbert Circle Theatre as soon as safely possible!