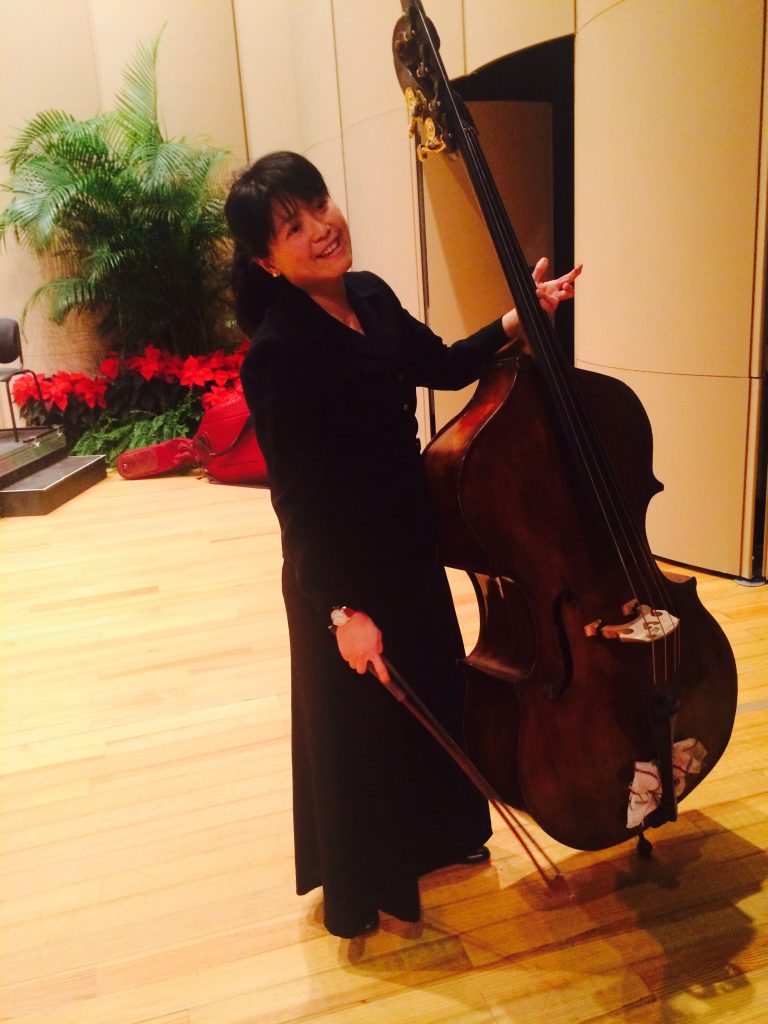 Ju-Fang Liu is the Principal Bassist of the Indianapolis Symphony Orchestra, a position she has held since 2003. Before her appointment to the ISO she performed for a year with the Kansas City Symphony, followed by a fellowship with the New World Symphony in Miami.
Ju-Fang was born and raised in Taiwan, and came to the United States to attend the Interlochen Arts Academy High School. There she met renowned double bass pedagogue Lawrence Hurst, and subsequently attended the Jacob School of Music at Indiana University to study with him and another esteemed bass teacher, Bruce Bransby. Ju-Fang received a Bachelors and Masters degree in Bass Performance from IU.
We sat down with Ju-Fang in May 2020 to hear more about her life in music.
Hi Ju-Fang! When did you start playing the double bass, and why did you pick it?
The first instrument I learned was the piano. My mom couldn't help noticing my joy and love for music when she saw how I danced and sang while watching the imported American cartoon, the Smurfs. When I was about five years old, she went to a piano shop and bought me a piano.

My second instrument was the double bass. It was picked for me by the music director at my elementary school because, at the time, I was the tallest person in the whole class; no one else was tall enough to play the bass. My original plan was to play the viola and tell viola jokes for the rest of my life!
We hear you have a special bass?
I play on a bass that used to belong to one of my beloved former bass colleagues in the ISO bass section, Nami Akamatsu. It's a smaller bass than usual, and it produces beautiful, dark, and lovely bass tones when played. I am very grateful that she sold it to me.
Do you currently have a favorite piece of music?
"Love will come" by Vince Guaraldi, and featured on [the animated cartoon] the "Peanuts," is currently my favorite song. I like listening to it because it's such a beautiful piece of music, and I enjoy the modulations and tonal colors of the jazzy chords. It makes me, and my family (including our kitty) feel nice and peaceful.
Do you have a favorite memory of something that happened on stage?
A few years ago, we performed an organ concerto with a phenomenal organist. Because the piece has so many similar and repetitious segments, the soloist somehow got lost near the final fugato section during one of the performances. Everyone in the orchestra just continued on and played as if nothing happened.

After a minute or two we all found each other and ended the piece perfectly. To this day I am still amazed how we all accomplished that without stopping and restarting the piece. I am proud to be part of this incredible group of musicians!
What's something that people might not know about you?
I enjoy gardening VERY MUCH!
Thanks Ju-Fang! We are looking forward to seeing and hearing you and your bass when we return to Hilbert Circle Theatre in the fall!