Spotlight on Tony Kniffen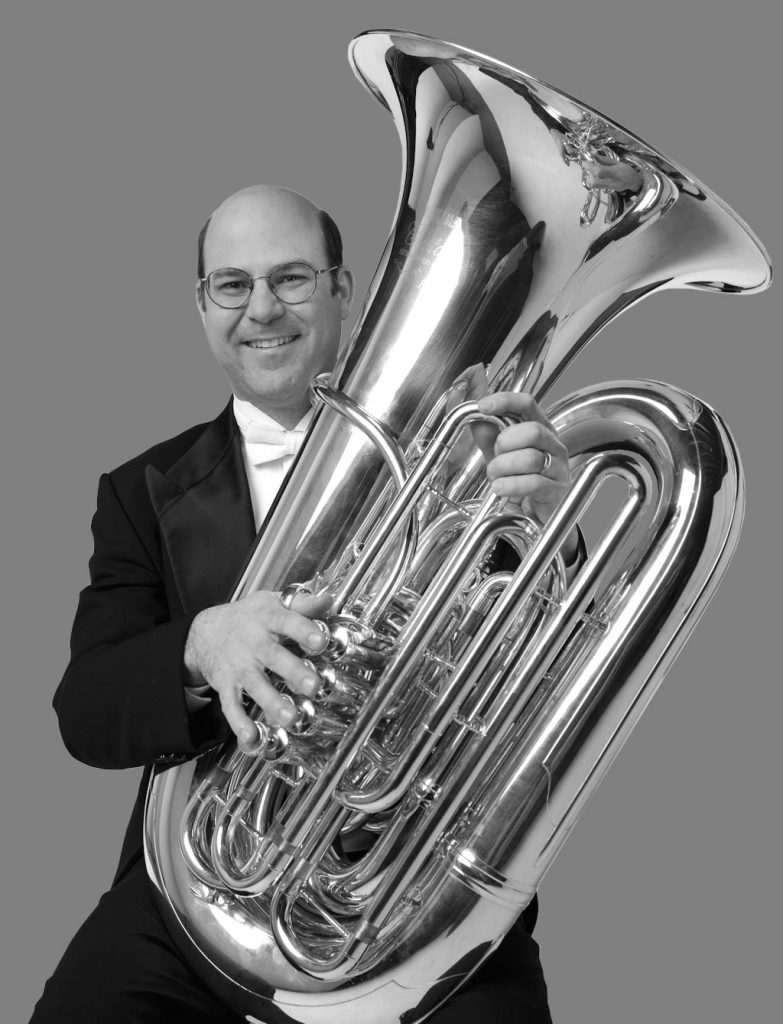 Tony Kniffen has been the Principal tubist of the Indianapolis Symphony Orchestra since 1997. Prior to his appointment with the ISO, Tony performed with the Honolulu Symphony, winning that job at age 20 while still a sophomore in college. A graduate of Indiana University, Tony has also performed with the Chicago, Cincinnati, Detroit, Minnesota, New Mexico and St. Louis symphony orchestras.
Tony is also married to Amy Kniffen, the Acting Associate Principal Violist of the Indianapolis Symphony Orchestra. We sat down with Tony in April 2020 to learn more about his life and musical journey.
Hi Tony! Can you tell us about the interesting path towards your college Tuba degree?
When it was time to go to college, I told my parents I wanted to study with Dan Perantoni at Arizona State. As we lived in Kirkwood, Missouri [a suburb of St. Louis], they said it was kinda far. So I suggested a few other great tuba teachers, like Tommy Johnson in Los Angeles and Michael Lind in Stockholm, Sweden.

When they heard "Stockholm," they suddenly thought Phoenix sounded great! Ironically, after my first orchestra [the Honolulu Symphony Orchestra] granted me a leave to finish my degree, I chose to study at Indiana University, and my teacher from Arizona wound up there a semester after I did.
When did you start playing the tuba and why did you pick it?
I started playing trumpet in sixth grade, but apparently I sounded fairly bad. Having braces in seventh grade didn't help my tone, so my band director suggested the baritone horn, which suited me much better. I became very proficient on the euphonium, which is basically a big baritone horn but didn't switch to tuba until late in Junior year.

About a year later I won an all-instrument concerto competition on the tuba, and then that summer I won the Interlochen National Music Camp concerto competition. The tuba was a much better fit for me than the trumpet! But I do sometimes miss the euphonium.
Is there any specific story to your current tuba?
About twelve years ago I went on a tuba quest to find a new instrument (until then I had not tested very many tubas). During that time, I played so many different tubas that my playing became destabilized. The Yamaha Corporation loaned me their big tuba: the most expensive tuba on the market by far. I used it for six months and really got my feet back under me, but ultimately I felt it wasn't quite right for me.

I took a break from searching around 2013 because the tuba I was playing at the time was serving me well, but by 2019 it seemed to be losing focus. So for the first time, I decided I should think very seriously about buying the big Yamaha tuba. A week later, a close friend brought his own Yamaha tuba to Hilbert Circle Theatre so I could see how it sounded in our hall again, and I decided that night to buy one.

These tubas are popular enough that I would have had to wait nine months to get a new one, but fortunately two days later an acquaintance emailed me to ask if I wanted to buy his, and at a discount! This tuba has gone over very well with the brass section and I am relieved and excited to be playing it.
We all think you sound great on it! Do you currently have a favorite piece of music?
Few works compare with Bruckner's Eighth Symphony. Copying from Beethoven, Bruckner took the themes of the first three movements and wove them into the ending, but the epic nature of the whole work is far more transcendent to me than any other work. It is hard not to weep every time I hear that ending. Bruckner's choral motets are sublime, and the harmonies and smooth voice writing in those short works can be heard throughout his orchestral works, but the power is unmatched. Many works move me greatly, but this one always sticks out to me.
Do you have a favorite memory of something that happened on stage?
An early favorite memory is playing Also Sprach Zarathustra with the Chicago Symphony and Sir Georg Solti conducting. I had the recording of CSO performing that piece, and playing with them live was like playing along with the recording. Having the CSO's Principal Trumpet player Bud Herseth say to me, "Nice job, young man," is hard to forget.

A few years later I got to perform Copland's Third Symphony at Tanglewood with Leonard Bernstein, just before he passed away. His facial expressions, pacing, and care for young people made that performance one of the greatest of my life.

Also, playing anything with Mario Venzago was a joy, but performing Bruckner's 8th with him was a treasure. The audience applauded for 14 minutes. And when we did Bruckner 4 with Markus Stenz last November, it brought back memories of such depth with Mario I had to go and cry alone for a long while.
What's something that people might not know about you?
A few years after joining the orchestra, I became very aware of the debate concerning Darwinism vs. Creationism. I became involved in the Indiana Creation Science Association and wrote their newsletters for five years. Recently, I became the president of the association.

I have also been very enamored with W. Edwards Deming (1900-1993), a statistician whom the Japanese credit for starting their industrial and technological revolution. His principles gleaned from statistics were applied to management style and can be extrapolated to everyday life.

These principles are so practical they have even helped me be a better husband, father, colleague and tuba player. In the Toyota headquarters entrance are three portraits: two medium-sized portraits of the current chair and the founder, and a larger portrait of W. Edwards Deming.
Thank you, Tony, it has been great to get to know you better. I'm sure I can say for all of us that we will be delighted to hear your tuba playing in Hilbert Circle Theatre again as soon as safely possible!