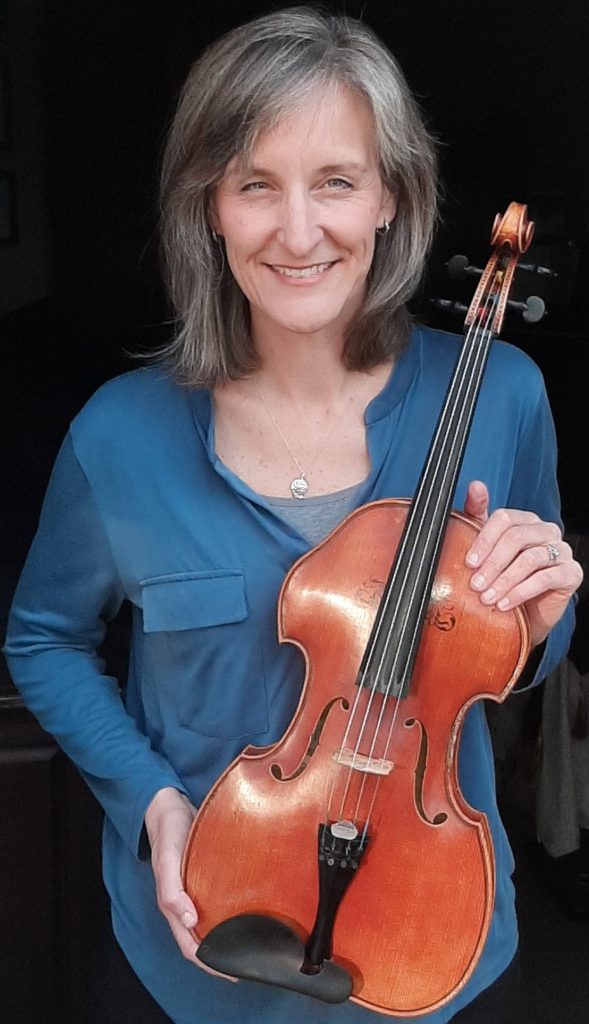 Amy Kniffen joined the Indianapolis Symphony Orchestra viola section May of 1998, performing Beethoven's Ninth Symphony instead of attending her graduation from the Cleveland Institute of Music. She eventually received her performer's certificate from CIM (in the mail), where she had studied with Robert Vernon.
For her Bachelors and Masters degrees, Amy studied with Emanuel Vardi and Leonard Mogill at Temple University in Philadelphia. After graduation from Temple, Amy accepted a Fellowship position with the New World Symphony in Miami Beach, FL, where she performed for three years.
Amy is married to ISO's Principal Tubist Tony Kniffen, who we interviewed in last week's Musician Spotlight. We sat down with Amy in April 2020 for an interview.
So how did you end up playing the viola?
My brother had already picked bass, so my mom made it clear to me that she wasn't going to carry around another big instrument. No cellos or basses. Since I didn't want to be like so many others who chose to learn the violin, I chose the viola. I started playing the viola when I was ten years old, after a year of playing piano.

In tenth grade I was accepted to both the Governor's School for the Arts in South Carolina on piano and Brevard Music Center on viola. I decided that I would rather play with people in an orchestra than by myself on piano, so I chose to go to Brevard. It was quite a magical summer that convinced me that I really wanted to pursue music as a vocation.
Is there a specific story to your current viola?
My viola was made by Hiroshi Iizuka, and it is the second one of his that I have owned. My teacher called Mr. Iizuka during my lesson one day and said I would pick up one that he had available. At first I didn't want it because I didn't like the way it looked, but it sounded so much better than anything else I had played; the choice was clear.

Mr. Iizuka bases the shape of his instruments on the Viol family: instruments that predate the violin family and are known for sloping shoulders, five to seven strings instead of four, and vastly different tone holes. Interestingly, the shoulders on my instrument are sloped, which makes it easier to reach the higher positions on the upper strings which is a huge benefit for violists.
Do you currently have a favorite piece of music?
My favorite piece of music will always be Mozart's Sinfonia Concertante for violin and viola. The solo parts are sublimely beautiful and they meld perfectly with the orchestral accompaniment. During my last month performing with the New World Symphony, my friend Eva Cappelletti and I played this piece with an orchestra consisting of a group of our friends from New World who volunteered to play. We were conducted by a violinist who had aspirations of becoming a conductor, which have now been realized.

Despite busy rehearsal days with the Symphony, my faithful and generous friends showed up afterwards to rehearse, and together we gave a performance of the piece filled with love and the warmth of great friendship.
Do you have a favorite memory of something that happened on stage?
I have many favorite moments on stage; one of them is from many summers ago, at Symphony on the Prairie. Jeffrey Kahane was conducting and performing a Mozart piano concerto; it had been a lovely week of musical partnership with him. This particular evening stands out in my memory because every pearly sound seemed to shimmer in the perfection of a starlit summer night.
What's something that people might not know about you?
I jokingly suggest to Jack Everly from time to time that he should use me as a backup dancer, since I have training in dance. What I don't tell him is that my training comes from Miss Hall's School of Dance, where my mom signed me up for lessons when I was young because she was afraid that, due to my need for corrective shoes and leg braces, I might never walk with any degree of grace.
Thanks, Amy, it's great to learn more about your musical journey and your unique instrument!