Spotlight on Mary Anne Dell'Aquila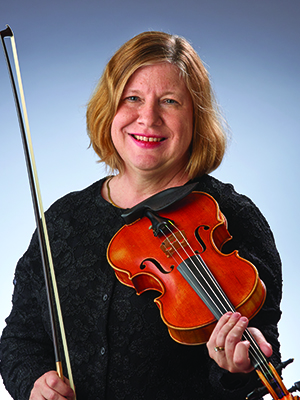 Mary Anne Dell'Aquila joined the Indianapolis Symphony Orchestra in 1986 as Assistant Principal Second Violin. Born in Kingsley, IA, she received a Bachelor of Music from the University of Iowa and pursued graduate studies at the Cleveland Institute of Music, studying with Bernhard Goldschmidt, Principal Second Violin of the Cleveland Orchestra. We interviewed Mary Anne in April 2020 to learn more about her.
Hi Mary Anne! So, when did you start playing the violin and why did you pick it?
I started playing the violin when I was 9. My mother was a pianist and vocal music teacher and I always loved to sing. I wanted to take piano lessons with my grandmother when I was five years old because my older siblings were taking lessons with her at the time. I didn't really take to the piano, but my mother realized I had some musical aptitude and encouraged me to start violin lessons, as she loved the instrument.

My mom would accompany me on the piano and I think that that collaboration along with the local youth orchestra made learning the violin very enjoyable. By the time I was in middle school I knew that this was something I wanted to pursue as a career.
Your title with the ISO is Assistant Principal Second Violin, but you have been performing as the Acting Principal Second Violin this past season (19-20). How has your experience been as Acting Principal, as opposed to your normal position?
I'm a big proponent of strong leadership and all of the responsibilities it entails. One of the challenges of orchestral string playing is getting everyone on the same page with regard to the style of a particular piece. It's amazing how many different interpretations of the same music there can be.

Sometimes a conductor asks for a certain sound, and the principal may suggest a bow stroke or a fingering to enable the section to produce that sound. The solution has to be something that works for several violinists to sound unified, and that can be very different from the approach used by just one violinist playing the same passage.

The principal also has to come up with bowings [the direction the bow moves for groups of notes] for each piece, which also helps with phrasing and unification. As principal I also feel it's important to use body language to help ensemble and phrasing. We are very spread out on the stage and for section players to see the principals, in addition to the conductor, can be very helpful.
Is there any specific story to your current violin?
My instrument was made in Chicago by Carl Becker, whose family has continued the art of violin making into the fourth generation. My instrument, which I always refer to as a modern instrument, is 100 years old this year, so I guess I will have to call it an old violin now!
Do you have a favorite piece of music currently?
For me that question is like asking to name your favorite child; however, I have always loved Mozart for the beautiful melodies he writes, especially in his operas and piano concertos. The music of Mozart is especially comforting for me during this stressful time in which we currently find ourselves.
Do you have any favorite memories of something that happened on stage?
One of my favorite orchestra memories was receiving the Patch Award in 2015. The award, established in memory of Renato "Patch" Pacini, a violinist with the ISO for fifty years, is given to a conscientious member of the orchestra who promotes the orchestra and furthers music in the community.

I was deeply touched and honored to receive this award, considering that nominations come from other members of the orchestra. I have served as a coach for the ISO's Side-by-Side program, which pairs talented youth and ISO musicians for a number of rehearsals and a performance.

I have also been involved in the Artists in the Schools program, I organized a musician table in the lobby to greet patrons attending concerts and I continue to organize coachings and collaborations for the Indiana University Medical School Orchestra.
What's something that people might not know about you?
I'm crazy about dogs! I love their unpretentious, loving personalities. I have two Italian greyhounds, they are named Viva and Puccini.
Thanks Mary Anne! We are thankful for your leadership, thoughtfulness and musical contribution to the Indianapolis Symphony Orchestra.We look forward to seeing you again at Hilbert Circle Theatre soon!