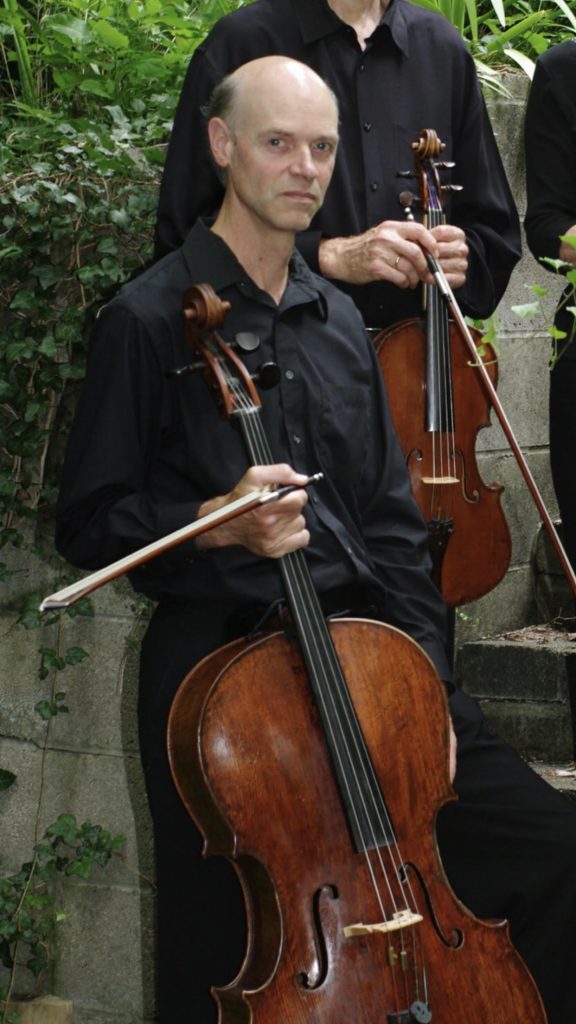 Perry Scott joined the Indianapolis Symphony Orchestra as Associate Principal Cellist in 1980. Born into a musical family, he grew up in Greensboro and Raleigh, North Carolina and attended Indiana University, receiving Bachelors and Masters degrees in music performance. Perry performed for a year and a half in the Hamilton Philharmonic Orchestra in Hamilton, Ontario before joining the ISO.
Perry's wife Lisa plays Second Violin in the ISO, and his brother Beverly is the former Assistant Principal Violist of the orchestra. Perry, Lisa, Beverly, and Beverly's wife, pianist Slyvia Patterson-Scott, form the Scott Chamber Players, a chamber ensemble that performs regularly throughout the Indianapolis area.
We are grateful for a chance to sit down with Perry and learn more about him:
So you are from a musical family! When did you start playing the cello and why did you pick it?
I didn't really pick the cello, it was picked for me! I have an older sister who also plays the cello, Lauren Scott Mallory; she also attended Indiana University, studying with Janos Starker, and then went on to have a long career with the Pittsburgh Symphony Orchestra.

When I was six years old, my sister's teacher had a 1/4 size cello and was looking for someone to play it. I was the right size, so I was asked if I wanted to play the cello. My response was, according to those present, "I don't care," which probably represented accurately my feelings, but I got started on it anyway.

I didn't make much progress at first, because of a lack of interest and practice, but I didn't quit either, perhaps because I wasn't forced to practice the cello (unlike piano which I did have to practice and disliked; I quit as soon as I could).

After 7th grade my family moved from Greensboro to Raleigh and I started studying cello with Luca DiCecco, cellist in the Ciompi Quartet of Duke University. This is when my interest in and dedication to the cello suddenly took off, owing to the very inspiring nature of Mr. DiCecco's teaching. By the time I was 16, I was going to summer music camps with the DiCeccos (Luca's wife, Arlene, was the second violinist in the Ciompi Quartet), first at Kneisel Hall in Blue Hill, Maine and later at the Garth Newel Music Festival in the Virginia mountains.
Is there any specific story to your current cello?
The cello I am currently playing is lent to me by my wife's mother, Mary Bent. It belonged to my wife's father, Robert Bent, who was a professor of nuclear physics at Indiana University (Incidentally, I met my wife Lisa when I took her father's Acoustical Physics class at IU.) He bought the cello from his former teacher, Betty Fretz, when she decided to retire from playing after the age of 90. I had the chance to try it out on numerous occasions, and thought it had a beautiful sound, although a little soft.

After Dr. Bent passed away, Robert Sansone, former Assistant Principal Cellist with the ISO, took the cello apart and reworked the inside of it, removing lots of excess wood from a previous workman's rather clumsy repairs. Mr. Sansone's work brought out the cello's strong beautiful sound, and I have been playing it exclusively ever since. The instrument is probably Italian, made by an unknown maker, age unknown.
Do you have a favorite piece of music currently? Why?
I have to say I love lots of pieces, mostly from the time of J.S. Bach through the romantic period. If I were pressed I might go with Brahms as my favorite composer, and the G Major Violin Sonata (it is played on cello in D major) as my favorite piece. But there are so many other great composers and compositions, including of course the great Bach Cello Suites and Schumann's Violin and Cello Concertos.

From the orchestral repertoire, which contains countless favorites of mine, I could name a few that spring to mind: Brahms' Piano Concerto No. 1, Sibelius' Violin Concerto, Rachmaninoff's Symphony No. 2, Mozart's Sinfonia Concertante and "Little G Minor" Symphony, Prokofieff's Romeo and Juliet Suite, and Schumann's 3rd Symphony, the "Rhenish."
Do you have a favorite memory of something that happened on stage?
I have many great memories, but not one that stands out well above the others. It is amazing to be playing a part in so many transcendent moments that happen in concert. Usually these moments can be somewhat fleeting as well, which is part of the reason they are so profound.
What are some things that people might not know about you?
I have always enjoyed being outside and my family usually went camping in the Southern Appalachian Mountains on vacations, a place where I developed a passion for natural environments. Summer music camps in remote places also contributed to my love of wild places. My wife's grandparents and parents built a beautiful log cabin at the edge of the Boundary Waters Canoe Area Wilderness (BWCAW) in northeastern Minnesota. Each summer we escape to this north woods cabin from which I take canoe trips into the wilderness.

For many years I have collected plants in both the BWCAW and the adjoining wilderness on the Canadian side, Quetico Provincial Park. Each summer I would find plants previously unknown there and I plan, someday, to write a book on the flora of this two-nation wilderness area. Starting in 2015, my collections largely switched from plants to lichens, which are fungi whose growth is fueled by captured algae (or cyanobacteria). They are found most everywhere on trees, rocks and soil, but are not as well known as plants, so I occasionally run into lichens that have never been seen before. My lichen and plant studies allow me to feel that I am making some contribution to science while I spend time in nature.
Thanks Perry! It was great to get to hear about your life in music and interests in botany. We are looking forward to hearing you and your cello again at Hilbert Circle Theatre as soon as safely possible!