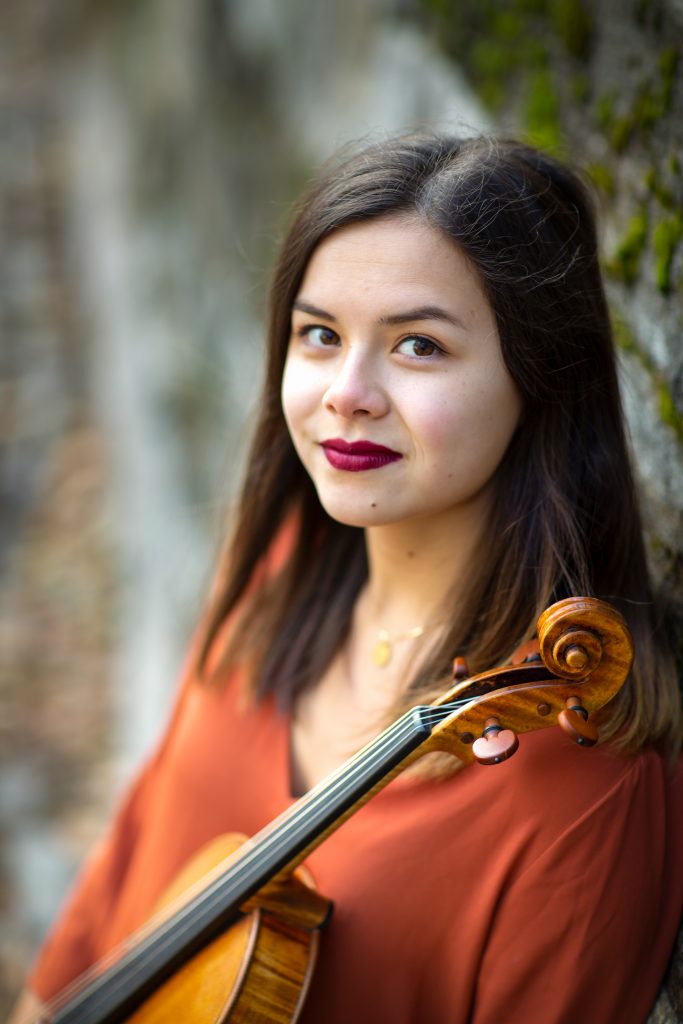 Julia McLean is a recent addition to the ISO, playing the viola with the orchestra on a one-year appointment. Born in Paris, France to American expats, her family moved back to the states shortly after she was born, but eventually returned to Paris when she was in high school.
Julia earned her Bachelor of Science in Biopsychology at Tufts University in Boston before moving to Juilliard to study for a Masters degree in Viola Performance, which she will complete in 2020. We sat down with Julia to hear more of her story:
So your parents moved around a lot when you were young!
My parents met as expats living in Paris, France, where I was born. We left when I was still a baby and moved to San Francisco, where I lived until age 8. After that we moved to Boston, then for two years we lived in Paris again, while I was in high school, which was an amazing experience! I learned to speak french while I was there. Still, with all that moving around, I tend to consider Boston my hometown.
Why did you pick viola?
Like many violists, I started as a violinist at age five. All of the kids on my mom's side of the family learned an instrument with the Suzuki method, so I grew up playing violin with my cousins. Of course, we could get very competitive, and because I was the oldest, I always felt like I had to be the best at playing violin, which I think kept me practicing.

When I was 16, I decided I wanted to try learning viola, so I started taking lessons with a new teacher who taught both instruments. I fell in love with the viola's rich tones and deeper voice, and from then on I was hooked!
Is there any specific story to your current viola?
The instrument I have now is a 1988 Terry Borman viola loaned to me by the Doublestop Foundation. I love it's big sound and playability, but regret that I will soon have to find a new instrument when I have to return this one back to the foundation!
Do you have a favorite piece of music currently?
I was looking forward to performing Mahler's Symphony No. 5 last week with the ISO and then, sadly, our concerts were canceled. When I first joined a good youth orchestra in high school, we played Shostakovich's Symphony No. 5 and Mahler's Symphony No. 5 in my first year. I haven't played Mahler's Fifth since, and I was thrilled to get to play it again with the ISO.

My first experience playing Mahler's Fifth opened my eyes to the wide range of emotion a symphony can express and it was a big reason that I chose to pursue music as a career. It's full of dramatic peaks but also incredibly tender and loving passages. The range of what Mahler can make you feel in the course of an hour-long symphony is unmatched!

While I've played the Shostakovich several times since my youth orchestra days, the scheduled concerts for this past weekend were going to be my first time to perform the Mahler again. Of course the musicians were all very disappointed that we weren't able to share that music with an audience, but I'm really grateful that we got the chance to rehearse it and enjoy playing the music for ourselves before having to stop.
Do you have a favorite memory of something that happened on stage?
I think the most memorable performance of my life so far was during the 2018 Verbier Festival. A conductor canceled last minute, and the festival managed to secure Simon Rattle to conduct Beethoven's Symphony No. 5. Playing that timeless masterpiece with one of the most inspiring conductors in the world (and by surprise) created an atmosphere in the orchestra that had everyone giving at least 150%. I will always hope to re-experience the sense of unity and focus that we had that night on stage!
What's something that people might not know about you?
I started college thinking I would become a scientist. I was really passionate about neuroscience and biology and imagined that I might work in some type of biology research after graduation. There was a brief period when I was working in a neuroscience lab that studied stress behaviors in rats and mice, and I spent several months as an intern slicing rodent brains to send out for analysis. There probably aren't a lot of violists who can say that!
We're so glad that you are able to join us for the rest of the season, Julia, and we'll be cheering you on as you graduate from Juilliard this spring!