Assistant Principal oboist and English horn specialist Roger Roe is originally from a suburb of Dallas called Lewisville. Lucky for him, it was about 20 minutes away from the University of North Texas, which has one of the largest music schools in the world. From Lewisville, Roger went to Booker T. Washington High School for the Performing and Visual Arts in Dallas (also known as the Dallas Arts Magnet), Southern Methodist University, and the Cleveland Institute of Music.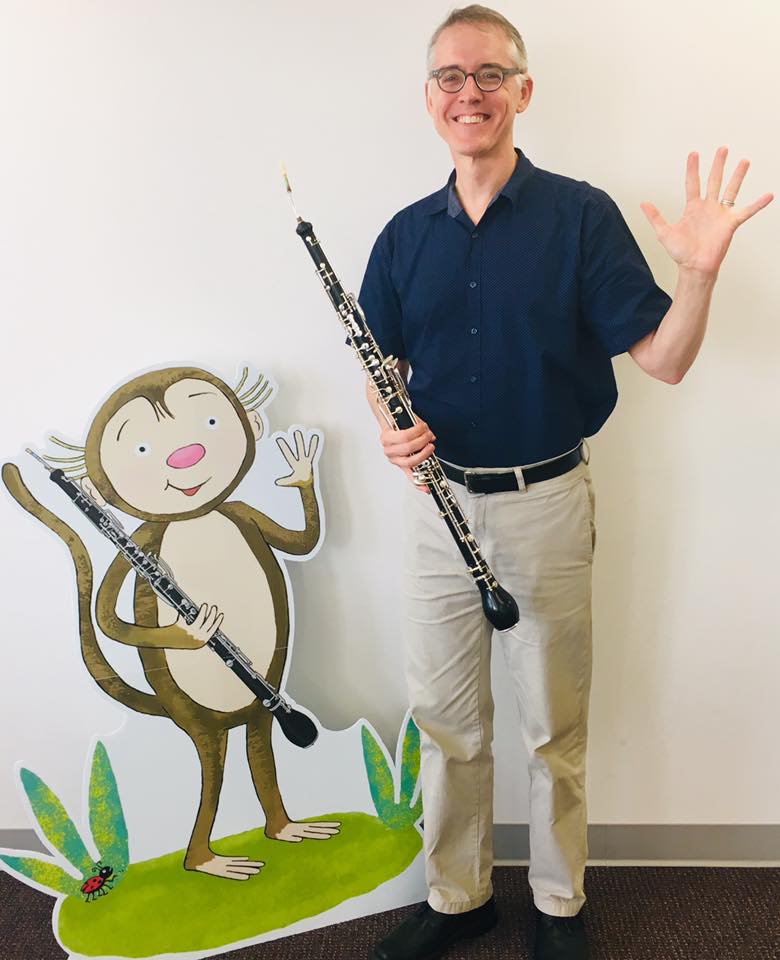 Roger has been a member of the orchestra since 1995, and held positions in both the Charleston Symphony Orchestra and the Honolulu Symphony Orchestra before joining us. We spoke with him just prior to Yuletide in November:
How did you come to start playing music?
I grew up in a musical family and sang as soon as I could talk. I played piano starting at age four or five and oboe in sixth grade. Our middle school needed another oboe player, and the band director pushed me to do it, even though I wanted to play french horn.
And when did you decide to start playing English horn?
I began specializing in English horn when John Mack, my teacher at the Cleveland Institute, suggested it. I was about 24 years old and doing really well in auditions when he mentioned how many big English horn positions would be opening up in the next five years. He was right.
Is there a specific type of oboe you play on?
My instruments are all by Loree. We buy new oboes every few years, and we are super lucky to have the largest-volume Loree dealer in the world right here in Indianapolis. I get to try new oboes all the time there, which makes it much easier to differentiate when I'm choosing for myself. That said, I'm usually there to pick out an instrument for an IU student, but I know the trends and feel of things when it comes time to buy one for myself.
Do you have a favorite memory from on stage?
Oh, yes. When Dukes of Hazzard star John Schneider was hosting a pops show. They asked us to dress up in Western wear, and I came as Miss Texas. It was a character I had done for a kids' concert the previous October, and I had the look and character ready to go. He came back into the orchestra during the concert to interview me and made the mistake of handing me his microphone. Never give a drag queen a follow spot and a hot mic and expect her to keep quiet! I think he literally had to pry it out of my hands. I was busy riffing on how much I admired Daisy Duke and loved being on the stage with him to share my message of liturgical clogging (that was my supposed talent for the pageant). I think I became best-friend-for-life of our pops department that night.
What else should we know about you?
I like to play a fair amount of new music, and my husband and I have commissioned several new works. I think it's important to support new music and composers. I also like to explore.

I enjoy running and swimming and try to do at least one half marathon and one sprint triathlon per year. Sometimes I get more than that in, which is great [Editor's note: Roger will be running the Mini Marathon in May].

I stuttered a lot as a kid and still stutter now. Music was and is an important way for me to express myself without using words.
Thanks for all the detail about yourself, Roger! We love having you in the orchestra and look forward to your next appearance as Miss Texas!