Spotlight on Theresa Langdon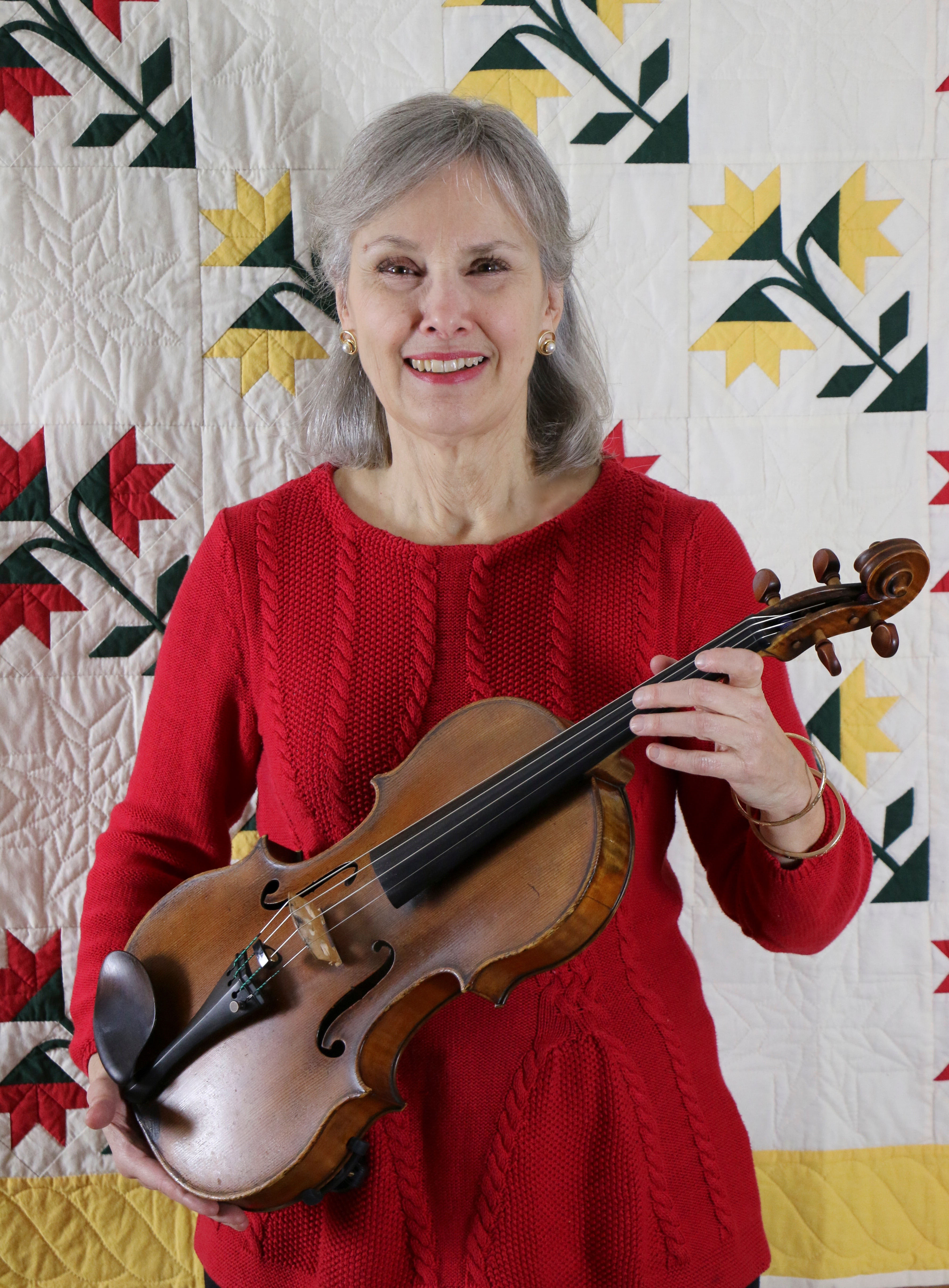 Violist Theresa Langdon comes from a family full of amateur musicians — singers, guitarists, pianists (even a dulicmer player). After growing up with these classical music lovers in Indiana and North Carolina, she attended Indiana University and Yale University to study Viola and has been a fixture in our orchestra since 1979.
Theresa sat for our interview in mid-November. Thanks for participating, Terry!
When did you begin to play the viola?
I started at age nine, when the school orchestra director came to my fourth grade classroom and asked if anyone would like to play a stringed instrument. I plucked up my courage (no pun intended!) and joined a line of kids headed for the basement where I announced my intention to play the bass, but I was too small, and my teacher (who happened to have been a violist with Fritz Reiner and the Chicago Symphony) handed me a viola instead. I proceeded to play with great abandon on the lowest string!
Is there a story that goes with your instrument?
I play an English viola made by the Voller brothers in London in 1905.  Its pattern is an expanded version of one made by Stradivarius. The Voller brothers were brilliant luthiers who had exquisite control over the sound quality of their instruments. This one was made to cater to the English preference for a dark and rich sounding viola.
Their expertise also lead them into counterfeiting Stradivarius and Guarnerius instruments, to the point that they fooled the most famous instrument dealers in the world with them. Luckily for me, these dealers tended to hold the Vollers in low esteem, so when I had this instrument appraised prior to purchasing it, the price came in lower than I was expecting. The dealer must have held a grudge against them appraise it so low!
What is your favorite music?
Without question, the music of Johann Sebastian Bach is the music I cannot survive without. 
What is your favorite memory from being on stage?
Very near the top would be quite recent: violinist Augustin Hadelich's encore this past weekend, the twenty-fourth Paganini Caprice. It was so expressive, and a technical tour de force which was very nearly flawless.
What is something others might not know about you?
I am a speed reader. On Sunday evening, our book club was to meet at our house, and I had not read the book yet. I read a three hundred and forty-one page book Sunday afternoon in one sitting.