Spotlight on Pedro Fernandez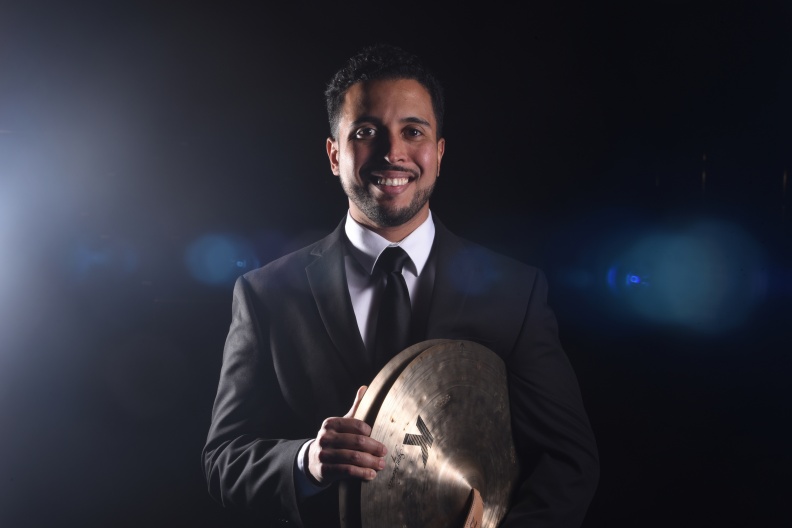 Percussionist Pedro Fernandez grew up in Panama City, Panama, but moved to the US to complete his bachelor's degree at Sam Houston State University and his master's degree at the University of Miami. He joined the ISO in 2016 after playing a one-year appointment in the Cincinnati Symphony Orchestra.
Here's what Pedro had to say when we sat down with him last week:
Why did you pick percussion in the first place?
I started playing when I was eight years old. I really just thought drums were the coolest, and I knew that there were many different types of effects possible with different instruments. I wanted to know how those were done!
Do you have a favorite percussion instrument?
It always changes. Possibly cymbals or the vibraphone. The vibes have a way of bringing a very unique timbre into any ensemble whether it's classical, contemporary, jazz… The cymbals are just epic instruments capable of really maximizing the climactic moments of any type of music.
What's your favorite piece of music?
As with most of my colleagues, I have many favorite pieces of music and many favorite composers. However, I tend to gravitate towards Shostakovich. The more I read about his life, the more I admire his dedication to work and music and appreciate the messages of his pieces. Some specific favorites of mine are his 7th and 11th Symphonies.
Do you have any specific memories that happened on stage?
My very first orchestral experience was as an 11-year-old in Panama, where I joined a children's orchestra. I always have a memory of the last concert of a collaboration with the Youth Orchestra of Costa Rica and figuring out how to (without knowing this is what I was actually doing) work my placement on the snare drum, troubleshoot gear issues in the section, and most importantly enjoy, laugh, and be in the moment. 
Is there anything else that informs your percussion playing?
I have always thought of percussion as problem solving, especially when I have to come up with a setup for a multi-percussion piece. I love problem solving. In high school I won first prize in the Mathematics Olympics in my age division and went on to compete at the National level. I also competed in the National Physics Olympics in Panama. I loved getting to discuss all the problems and their solutions with my coaches.