Spotlight on Emilee Drumm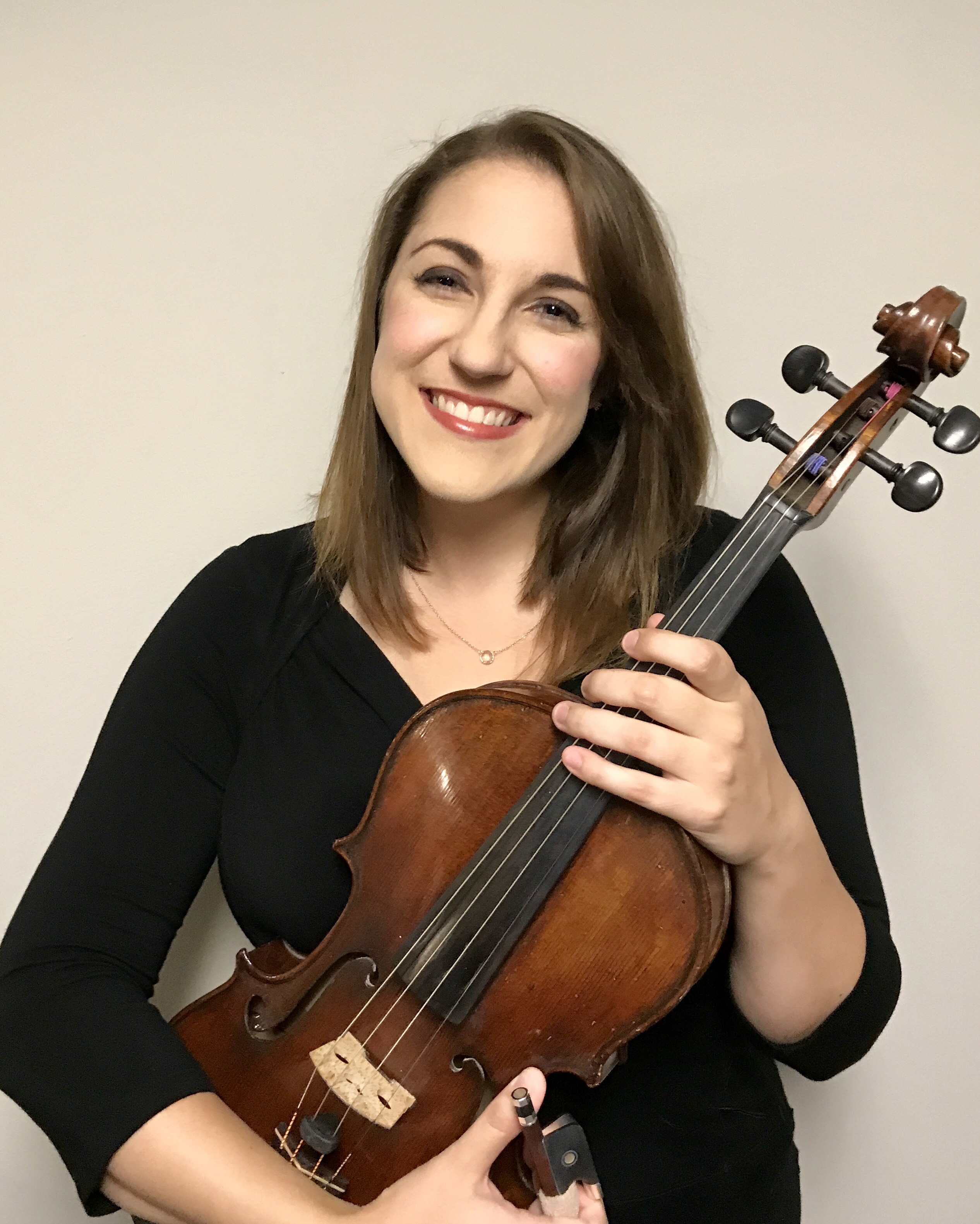 Violist Emilee Drumm is another of our long-term substitute players who hails from a little town down I-70 called St. Louis. She holds a degree from Indiana University and also spent three years playing at The New World Symphony in Miami Beach.
Emilee is the latest musician to sit down with us for an interview. Here's what we learned from her:
How did you decide to play viola?
I kind of fell into playing the viola by chance in the fourth grade. I remember being in our school cafeteria and going from one table to the next where they'd set up each instrument for us to try. We were scored on each instrument from 1 (good) to 4 (not good) in order to help our parents discuss the best choice for us. For every wind and brass instrument I tried, I got a 4. I was just that awful.

But I did get a 1 for violin and cello (viola was absent that day). My mom and I agreed that I should play a string instrument, so we looked at the list. I pointed at viola and said, "I want to play THAT!" When my mom asked me what a viola was, I shrugged and said the name just "sounded cool." Not sure why I thought that, but I'm glad I did! I fell in love with the instrument and never regretted my choice since!
What kind of viola do you play?
A maker in St. Louis named Robert Clemens made my instrument in 2002 in the style of the 17th century violin maker Antonio Casini. I'm the only one who has owned it so far since it's so young. That's not especially unusual with violists since older violas just don't seem to age as nicely as violins have.
Do you have a favorite piece of music?
I truly don't think do, much like I don't really have a favorite food – there are too many good ones!

Of course, most people who know me could tell you that Shostakovich is easily my favorite composer, although I'm not sure I could explain why. I enjoy learning about his tragically oppressed life and how that influenced his music, but honestly I think it's just because every time I hear one of his pieces, it sucks me in. I have no choice, my heart and my ears just want to listen!
Has anything really special happened to you while playing?
I remember playing my first concert with the New World Symphony in Miami. We ended the night with a performance of Tchaikovsky's Serenade for Strings in C Major. In the last movement, just before the very end, the main theme from the first movement returns in this big, climactic moment, right before rushing into a grand finale.

I remember looking into the audience while we were playing, and seeing a woman and her husband. She was so overcome with emotion that she grabbed her husband and just held him with this look of pure joy on her face. I'll never forget that look – that's exactly how playing this kind of music makes me feel, and I had just seen how what we had just done on stage facilitated that feeling in someone else. It was a moment of, "Oh right, that's why I do this!"
What's something that people might not know about you?
I come from a pretty big family. I have five sisters and two brothers, as well as a sister-in-law from my husband's side, and they all have children. If I'm counting correctly, the number of nieces and nephews is up to 17 so far – I think! But to be fair, that's a lot of names to run through from memory! It's probably safe to say that when my husband and I have kids, we'll be set with hand-me-downs!