Spotlight on Joseph Ohkubo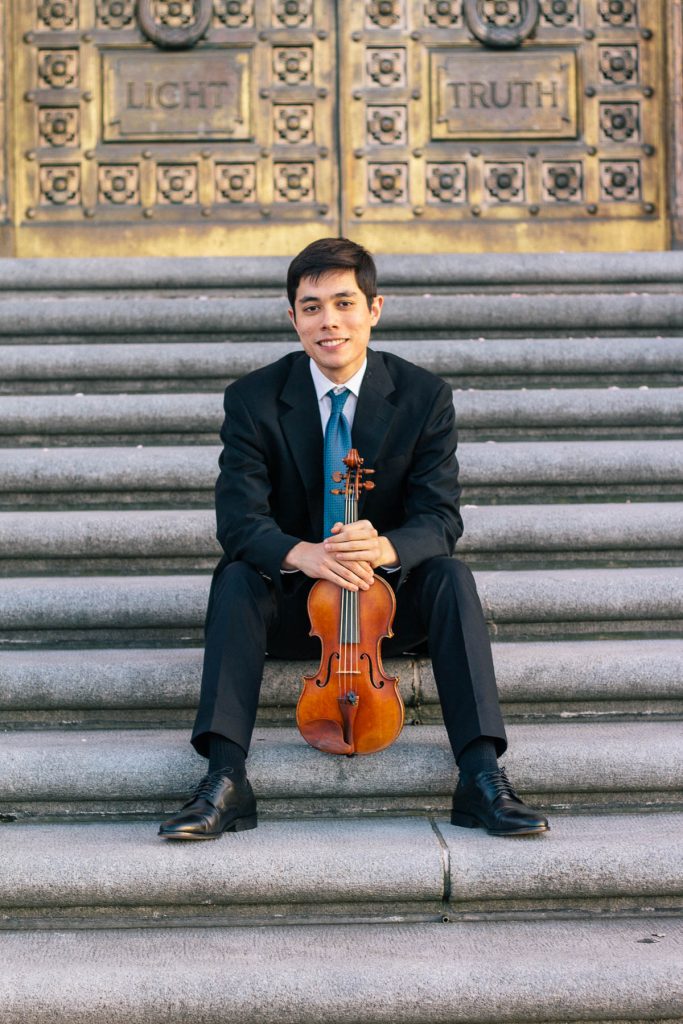 Joseph Ohkubo has performed with the ISO for five years, and has also performed with Louisville Orchestra and as Associate Concertmaster of Terre Haute Symphony. He is a graduate of Indiana University Jacobs School of Music, where he studied with Mauricio Fuks and Mimi Zweig, and studied chamber music with members of the Pacifica and Cleveland Quartets.
Growing up in a musical family, Joseph became familiar with many of the great works he still performs regularly, so he is always thrilled to discover lesser-known works, especially from composers living today. In his spare time, Joseph loves spending time in nature, especially hiking and distance running.
Hi Joseph! So where are you from originally?
I'm from Louisville, Kentucky. I come from a musical family—my parents are both string players and one of my brothers is a cellist.
How did you choose the violin?
My parents chose the violin for me, probably because it's so portable and because my mother is a violinist. I started originally when I was four, but then my mom decided I was too young (I don't remember this, but it must have been rough—she is a patient woman!). I started again when I was eight and so far haven't stopped again.
What kind of violin do you play?
The violin I currently play is actually the first violin that I have owned (I always played on borrowed instruments before). This violin was made for me in 2019 by Collin Gallahue, a really phenomenal maker. Many violinists play older instruments that have been played by musicians before them, which is really great, but I think it's cool to think that I'll be the first of many to play this particular violin. I do my best to take good care of my violin, since string instruments outlive the players if all goes well.
How long have you been playing with the ISO?
I started playing with the ISO full time in 2017, and have been enjoying it ever since. Before coming here I was studying at Indiana University and performing with orchestras in the Indiana area and Louisville Orchestra. What I love about the ISO is performing with my colleagues. They are inspiring as artists, but they are also very supportive of each other. It's pretty rare to have this kind of dynamic in an orchestra.
Who are your biggest influences in life?
My biggest influences are of course my family, friends and teachers over the years.
What are your favorite hobbies outside of rehearsal?
I love to be active and be outside, whether that's running or hiking (although I've been really bad about it with all the ice recently!). Recently I was lucky enough to be able to visit some bucket-list places– the Grand Canyon, Arches National Park, and other areas around Moab, Utah. It was definitely an unforgettable experience for me.