Melissa Deal is the newest member of our second violin section, joining us in January 2020 after a successful audition in the Fall of 2019. Originally from Bloomington, Minnesota, she spent two years at the University of Minnesota then transferred to the Cleveland Institute of Music where she received a Bachelor's degree in music performance. She just recently graduated from Rice University with a Master's degree in December before moving to Indianapolis to begin work with the ISO.
We spoke with Melissa in late January 2020, after her first few weeks with the orchestra.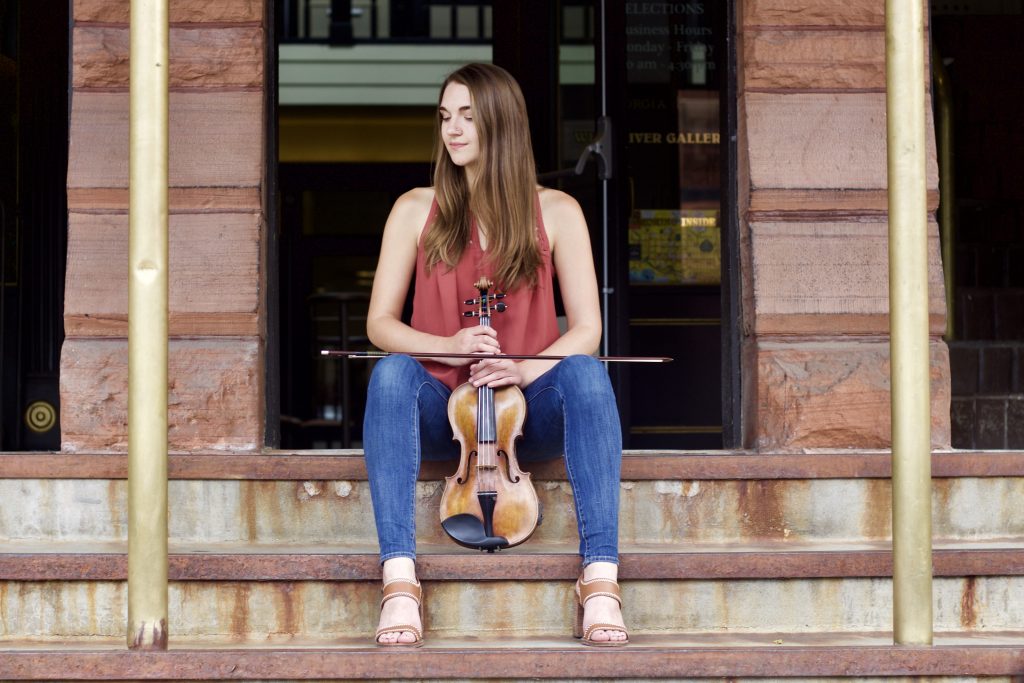 Why did you end up picking violin?
I have four older siblings who were all taking piano lessons by the time I was born. My mom still swears that when I was an infant I tapped my hand along to recordings with decently accurate rhythm. Of course, no video footage is available for proof! Eventually, I chose violin because my oldest sister played violin and I wanted to be exactly like her. She was my first violin teacher when I was three years old!
Is there any specific story to your current violin?
My violin is unique because it was made in 18th-century Germany, but parts of it have been replaced by different luthiers over the years. The original maker is unknown, so its value lies mostly in its sound and playability. I like to think of musicians this way as well — they don't necessarily have to have a privileged upbringing to achieve success as an artist.

There is a quote from Ratatouille, my favorite Pixar movie: "Not everyone can become a great artist, but a great artist can come from anywhere." I love this quote because I'm very passionate about keeping arts education in schools and putting instruments into as many children's hands as possible!
Do you have a favorite memory of something that has happened on stage?
I played a concert at the Musikverein in Vienna. It's a famously beautiful hall to play in, both visually and acoustically, but has an extremely small stage.

We were playing Mahler 6 which requires a very large orchestra and many large percussion instruments. The beginning of rehearsal was chaotic and frustrating as the stage crew was trying to fit everyone in comfortably. We were worried the concert wouldn't happen!

But when we started playing, because we were so close to each other, I could hear and communicate with my colleagues so well. If was one of the most incredibly rewarding performances I've experienced.

My favorite part about being a musician is sharing the experience with the people around me on stage and connecting to the audience in an intimate way. I am lucky that I get to perform every week with such kind and talented musicians at the ISO!
What are you listening to when you're not at work?
Recently, I've been binging Mitsuko Uchida's recordings of the Mozart Piano Sonatas, and the Mozart Violin Sonatas with Mark Steinberg. Uchida's musical sensitivity is absolutely incredible, and listening to Mozart is such a lovely way to start your day! My favorite piece of all time would have to be Mozart's Sinfonia Concertante — it's my dream to perform it in front of the orchestra one day!
What's something that people might not know about you?
I really like running, and I absolutely love the trails I have found in Indianapolis, especially the Monon Trail and White River Park. Also, I am obsessed with the New York Times Daily Crossword! I won't Google search for clues but I will not hesitate to approach friends and colleagues for help.