The season is in full swing, and we've had some great performances in the Hilbert Circle Theatre already, but there are always opportunities for our musicians all across town. Recently, some of our musicians have used some time outside the hall to connect with a special group of supporters known as the Indianapolis Symphony Orchestra Association. Below, violist Amy Kniffen summarizes the close bond that we have with these volunteer supporters.
---
It goes without saying that we love our patrons, but there is a special group that we love from East to West, North to South, in Columbus and Wabash, all 476 of them!
The Indianapolis Symphony Orchestra Association, or ISOA, is a group of volunteers who are so passionate about music making and music education that they create unique fundraising projects to support the mission of the Indianapolis Symphony Orchestra, and we love supporting them wherever we can.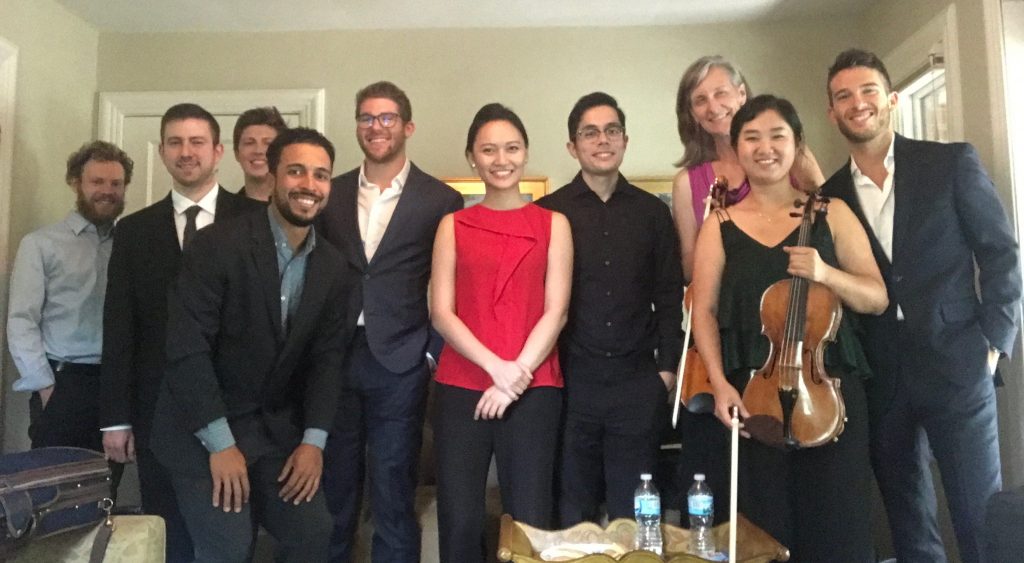 The ISOA is best known as the presenting sponsor of the Discovery Series, the ISO's offering for local schools, but they also present a number of other programs. ISOA sponsors the Michael Ben & Illene Komisarow Maurer Young Musicians Contest, a yearly competition open to Indiana residents through grade 12 which offers prizes between $125 and $2,500. The first prize winner is invited to perform as a guest soloist with the ISO at our annual Side-by-Side Concert. In fact, two Musicians of the ISO are past winners of this competition: Principal cellist Austin Huntington and Assistant Concertmaster Peter Vickery.
Symphony in Color is an annual enrichment program of the ISOA that offers a blending of symphonic music and visual arts and involves more than 30,000 Indiana students from first to sixth grade. Students submit art based on music that they experience, and the top entries are shown in a juried exhibition at the Hilbert Circle Theatre and the Indiana State Museum.
The ISOA also highlights upcoming programming from the ISO by organizing gatherings called Musical Mornings or Musical Evenings in which patrons can enjoy food and behind-the-scenes information with a given week's soloist or conductor, or even a local artist of interest.
But by far, the largest project that the ISOA undertakes is an annual auction named Spring Jubilee (although you may know it as its former name, "Let us entertain you"). Last year this single fundraiser contributed $92,000 to the ISO.
This year's event will be held at the Indiana State Museum on Friday, May 1 2020, and will include music from the Metropolitan Youth Orchestra, a live auction, a silent auction, cocktails and dinner. Musicians of the ISO work together with ISOA to provide a variety of different experiences for the auctions, ranging from private recitals in homes or schools to parties involving food from a particular musician's home country or even an invitation to play chamber music together with musicians of the orchestra.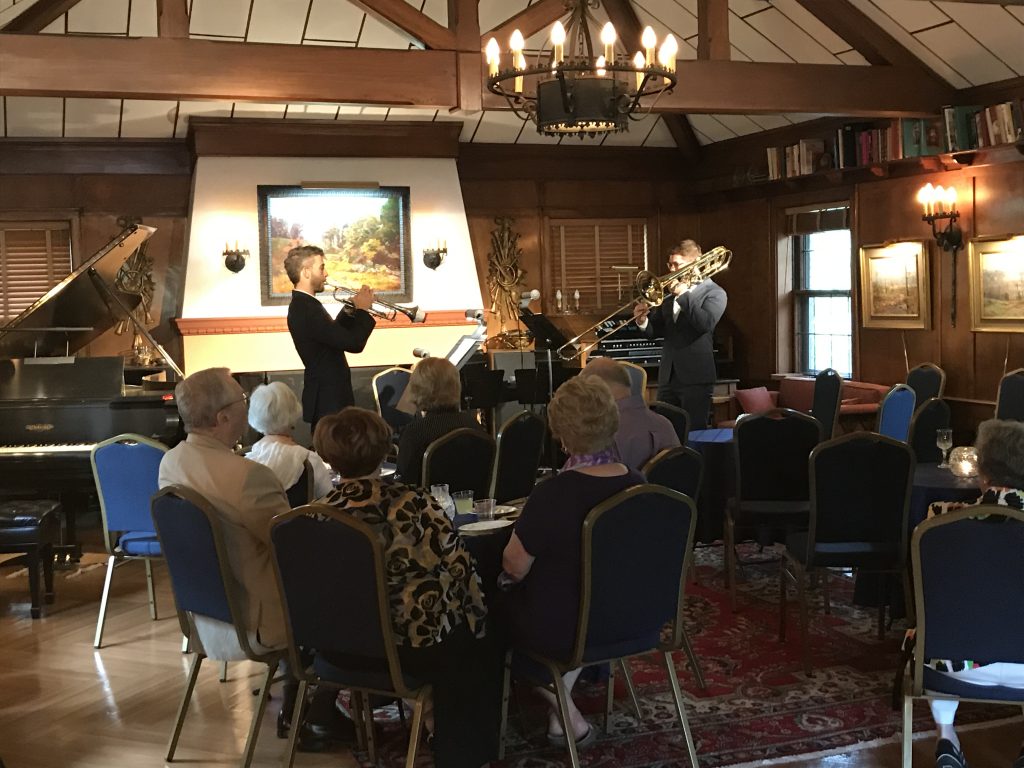 We have gotten to know so many wonderful members of the ISOA as we have shared music together throughout the years. Some of the bonds are very close! We keep track of each other's hairstyles and kids, compare notes on soloists and conductors, and the musicians always enjoy the delightful homemade treats every time the ISOA sponsors a lunch for us. Yum!
If you are interested in supporting the ISOA, please click here to open the ISOA homepage, or send us a message on our facebook page so we can get you in touch!
---
In addition to our ongoing partnership with ISOA, we have a whole slate of exciting performances coming up this month! Here's some of music we're looking forward to bringing you in October:
Our first Pops Series concerts start this week with Jack Everly leading the orchestra in favorite tunes from modern musicals: Vienna to Broadway performances take place on October 4 and 5.
Monkey's Jungle Jam, the second in a series of children's books written by our very own violinist Victoria Kintner Griswold will be unveiled on Sunday, October 6. The book is "an adventure-filled tale of a spider monkey's search through the rainforest for musical friends." The event starts at 1 p.m. and culminates with a performance of the book with live music at 2 p.m.
On October 10, 11 and 12, we return to our Classical Series as we perform Jennifer Higdon's All Things Majestic, Sibelius' Symphony No. 2 and Rodrigo's Concierto de Aranjuez with guitar soloist Pablo Sainz Villegas. Robert Spano, music director of the Atlanta Symphony Orchestra, conducts the ISO for these performances.
On October 18 and 19 the winner of the 2018 International Violin Competition of Indianapolis, Richard Lin, joins us for performances of Brahms Violin Concerto, conducted by Christian Arming. We'll also perform selections from Dvorak's charming Slavonic Dances.
Mozart's Piano Concerto No. 19 with soloist Francesco Piemontesi will highlight concerts of October 24, 25, and 26. Conductor Markus Stenz will lead the orchestra in these performances that also include Bruckner's Symphony No. 4.
Last but certainly not least we will be performing Bernard Hermann's unforgettable score to Psycho, live with film, on Halloween, October 31. Come and relive the thrill of seeing Psycho on the big screen, complete with slashing violin chords during the infamous shower scene!