Spotlight on Austin Huntington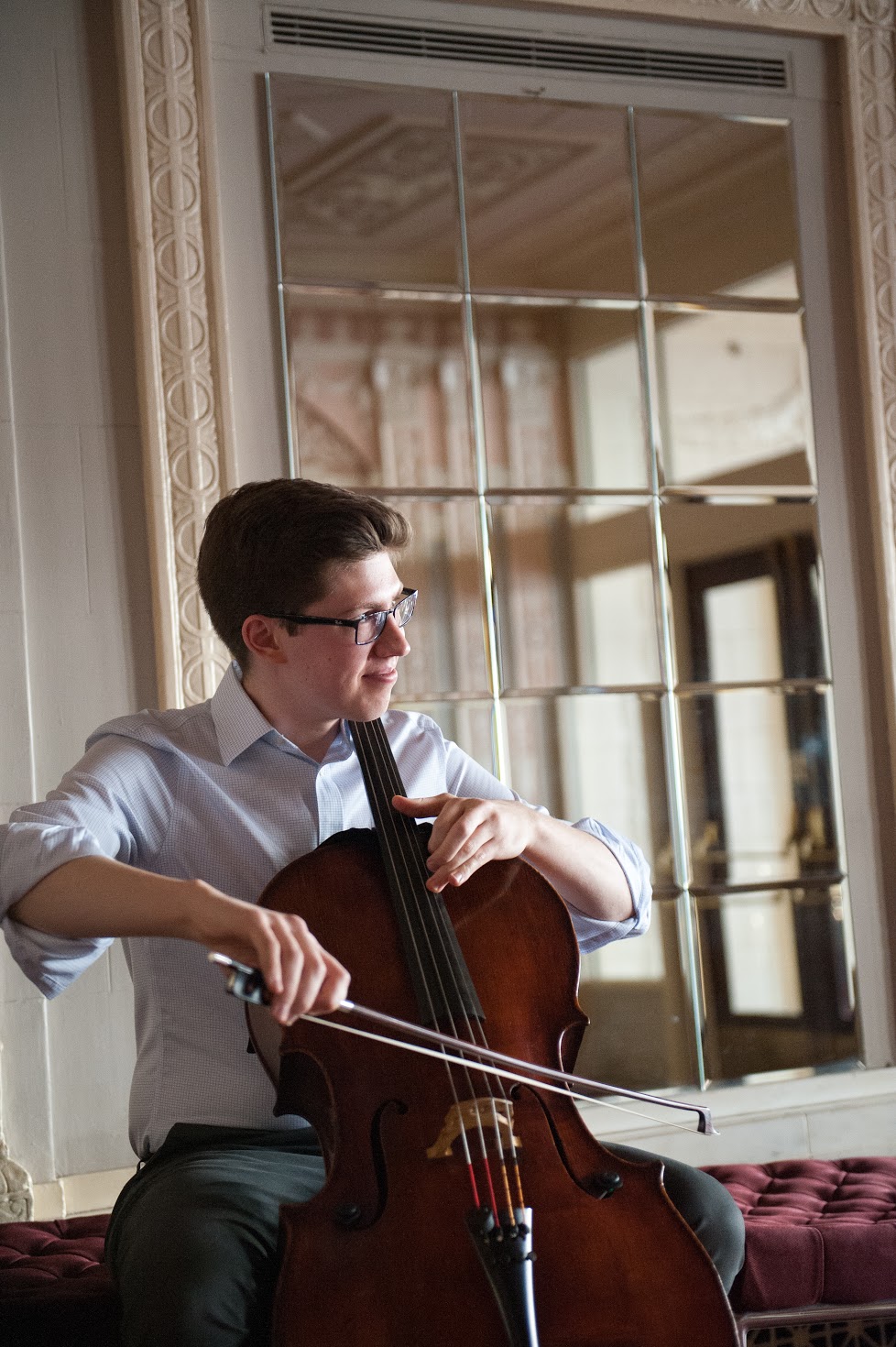 Principal cellist Austin Huntington was born in St. Joseph, Michigan, but moved to South Bend at age eight. He studied at the Colburn School in Los Angeles, and was actually still finishing his degree when he won the position in our orchestra in 2015, commuting back and forth from Indiana to LA to finish out his bachelor's degree.
We sat down with Austin in 2018 to ask him a bit more about his background:
Why did you pick cello?
My parents often took us to see classical concerts at a very young age. As the story goes, during intermission of one of those concerts, I pointed up at a double bass lying on its side on stage and said to my parents "I want to play that!" As you might imagine, a four-year-old and a double bass are a little bit mismatched in size, so my parents convinced me to start on the cello.
What kind of cello do you play currently?

It's a beautiful old Italian cello made in Florence in the 1740s, though nobody really knows exactly who made it.

While attending the music festival in Verbier, Switzerland in the summer of 2016 I found the website for a small cello shop about an hour train ride north of London. The site listed a beautiful looking cello with pictures and sound clips. I thought it was incredibly promising, so I visited the shop to try out the instrument as soon as the festival ended. It was love at first note, exactly what I was looking for!
Is there any piece of music that resonates with you right now?
Right now, my favorite piece is Mahler's Fifth Symphony. This was the only piece on my first trial week with the ISO, so I prepared it like crazy and knew the score inside and out. It had been on my musical bucket list ever after I heard it for the first time in high school, and it was an absolute joy to play it.

A few weeks ago, while driving back from the grocery store I heard a broadcast of the Philadelphia Orchestra playing the piece. I drove around the city just to have more time to listen to it. I even sat in the garage to listen to the entirety of the final movement. It brought back so many feelings from that time right as I was joining the ISO, especially the immense gratitude and amazement that our job is to bring music like this to life.
What is your favorite concert that you have played here so far?
The most recent amazing memory that I've had on stage was playing for John Williams [in February 2018]. I grew up with so many of his film scores and have been a die hard fan since I was a kid. We play his music all the time, but nothing compares to playing the music of my childhood with the composer himself conducting. It was one of the most amazing and surreal experiences I've had and an absolute dream come true.
What's something that people might not know about you?
I'm a huge dog person, and I seem to make friends almost immediately with every random dog I meet. On a recent flight, the passenger next to me had a puppy she was flying with that she took out of the carrier after takeoff. She got up to use the restroom and asked me to watch the dog who climbed into my lap and refused to move, even when the owner came back and sat down.

Best flight ever.