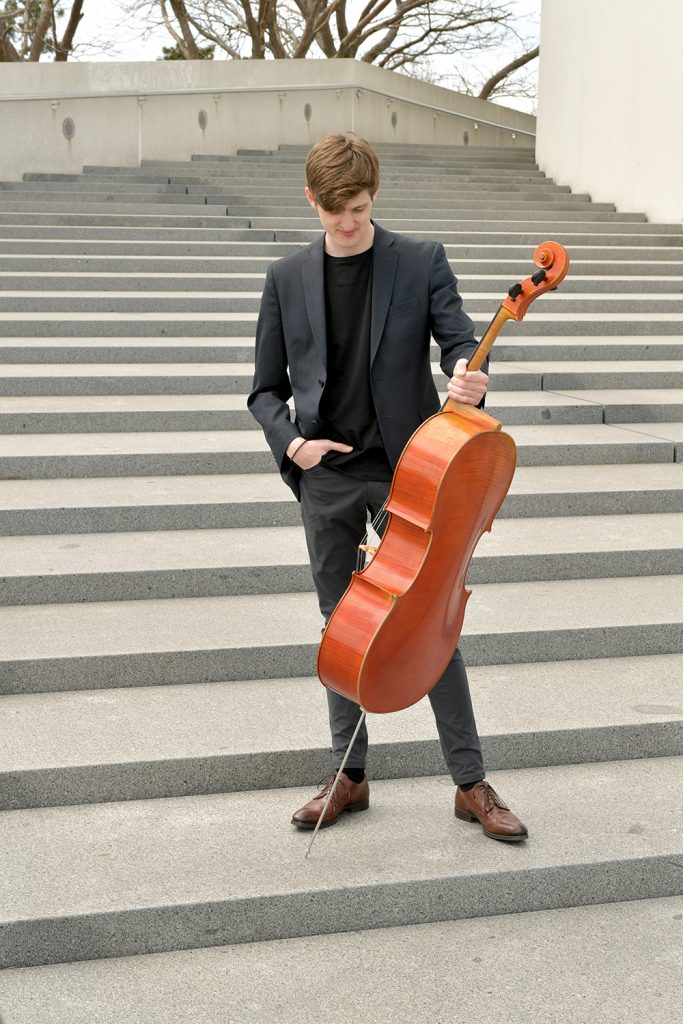 Cellist Sam Viguerie grew up in Atlanta, Georgia, moving to Northfield, Minnesota to complete an undergraduate degree at St. Olaf College. After graduating, he earned a master's degree at New England Conservatory to Boston, Massachusetts, before studying for two more years at Rice University in Houston, Texas.
Sam joined us in September 2022 after his successful audition the previous June. We sat down with him in October to chat.
Is there any specific story to your current instrument?
My cello was made in 1966 in Chicago by Carl Becker, Sr. and Jr. It belonged to a member of the Chicago Symphony Orchestra before it fell into my hands!
Do you have a favorite piece of music?
This is always a tough question—but I find myself constantly revisiting the symphonies and tone poems by Sibelius. There's something about nearly every piece he wrote that takes me to another world. I'm not sure exactly what it is about his music in particular, but I find myself having vivid images of landscapes, changing weather, and wildlife whenever I listen to something by him. I think a lot about imagery in music—that's one of the most powerful effects it has on me.
Do you have a favorite memory of something that happened on stage?
Ha! One time I was performing a sonata, reading the music from my iPad. Evidently, I had forgotten to turn on airplane mode and I got a FaceTime call from one of my friends mid-performance. I'll never forget that panic when the music went away and was replaced by a ridiculous contact photo filling up my screen. Somehow I managed to reject the call and no one even noticed.
What's something that people might not know about you?
I never pass up on a chance to see a great EDM show. My guilty pleasure is music by Deadmau5, Gryffin, Zedd, or anything similar.
Do you have a favorite practice habit?
Scales. No matter how much you practice them, there's always more to be done, and more to improve upon.