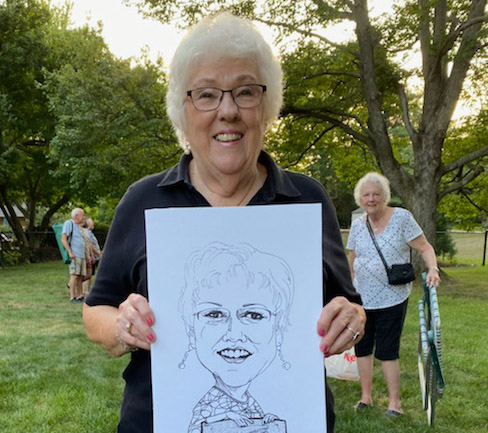 If you have been an Indianapolis Symphony Orchestra musician, staff member or patron for any amount of time you probably know Frances Heavrin. Frances started working part-time as an usher, and eventually became a full-time employee of the ISO serving as Rental Coordinator. She considers her work at the ISO a labor of love and cannot imagine not being involved with the orchestra in some capacity.
Frances has lived her entire life in Indianapolis, growing up on the east side and moving to the south side of the city as an adult. She attended St Mary's Academy, an all-girls high school, where she participated in the arts and other extra curricular programs offered by the school. Her graduation class size was only 98 students!
Family circumstances necessitated that Frances enter the workforce immediately following her graduation from St. Mary's. She began work at the IU Medical Center, where she spent the next 24 years as an Administrative Assistant for various medical school departments. She subsequently served as Program Coordinator for the family practice residency program at Community Hospital, followed by a position as Office Manager for a family practice physician.
After almost 45 years in the medical field, Frances became the Office Manager for a non-profit neighborhood organization subsidized by the City of Indianapolis. She only left that position when Joanne Bennett, former Director of Operations for the ISO, offered her the full-time position of Rental Coordinator at the orchestra in 2005.
However, Frances actually began her association with the ISO in 1986, when she was hired as an usher at the Hilbert Circle Theatre. She has since held positions of Assistant Head Usher, Head Usher, and Event Supervisor.
Frances and her late husband, Don, whom she married in 1956, had four children. While her oldest child, Theresa, passed away in 2013 from complications of diabetes and heart failure, she still has eight grandchildren and five great-grandchildren.
For Frances, her work with the ISO is a "labor of love." She feels a peaceful calm every time she walks into the beautiful theater, which was very helpful following long days in the stressful medical field. Frances has shared her love of the ISO, and the beautiful music, with family and friends, with her children and grandchildren all having attended many concerts over the years.
Frances says it is difficult to identify only one memorable program from her years at the ISO because there have been so many. Joshua Bell's first performance with the ISO and his subsequent appearances stand out. But the highlight of her time with the orchestra was getting to meet John Williams and hear him conduct his music with our extraordinary orchestra.
"It was like hearing Mozart conduct his own music".
With the return of programs to the Hilbert Circle Theater and Conner Prairie, Frances has returned to her role as a head usher. She says, "The patrons are wonderful and all glad to be there. They have been anxious to come back. It makes the job wonderful".
Frances says the absence of live music during the pandemic was difficult. "The lack of it was felt by all." In the Summer of 2020, Frances and her friends started attending driveway concerts and other chamber performances presented by the Musicians of the ISO. She believes she has attended over 40 of these programs.
"Those concerts have been a lifesaver for those of us who follow the orchestra. It has been a wonderful experience."
If you come to our shows, you may see Frances with her regular cohorts, Joanna Weiler (a former ISO staff member), Marion Wolen (a longtime subscriber, donor, and volunteer), Kathy Aldrich (a long-time usher), and Bekki Quinn (former ISO operations secretary).
Today, we're starting a feature across our platforms called "Where's Frances?" where we'll chronicle Frances and her friends' attendance at programs featuring Musicians of the Indianapolis Symphony Orchestra. Keep an eye out to see where Frances goes next, and if you see her, make sure you say hello!