Covid Diaries: Reorchestration
Did you know that every orchestra has an entire library devoted to just the music that ends up on our stands? There are seemingly endless stacks of music backstage that our librarians are continually preparing for us each week.
The social-distancing ritual that we are all now accustomed to created a huge logistical challenge for orchestras performing indoors, as we no longer could all fit on stage at the same time! And our librarians answered that challenge with plenty of innovative solutions, as Assistant Orchestra Librarian Laura Cones describes:
Along with Covid came safety practices and social distancing for the orchestra. Many studies were done, and continue to be done, concerning a safe distance for various instruments and singers. Depending on the size of the stage, that could mean a drastic reduction in the number of musicians allowed to perform.

String players were reduced by at least half so that one player would be on each stand, instead of the usual two. This meant that we had to check every part to make sure that page turns worked well – we can't have an entire section stop playing just to turn a page! Occasionally the players might end up with 3 pages open at once before there was a good place to make a turn.

Wind, brass, and percussion players were already used to having their own stands, but sometimes the music called for too many players to keep the distance safe. Music then had to be selected with slightly smaller than full size sections to help with this. Occasionally we would have to re-work parts to cover for instruments that we just couldn't fit on stage due to the guidelines. We would have to choose which notes are the most important so that the tonal structure and sound stays as full as possible and write them into other parts.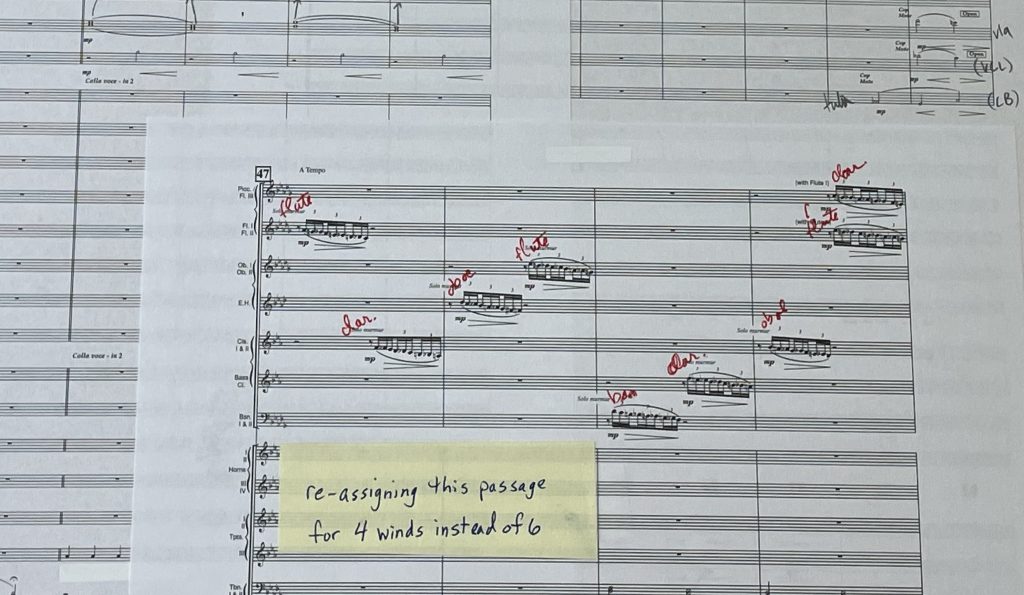 I also work as a personal librarian to a variety of artists, including our own Pops Conductor, Jack Everly. Maestro Everly was fortunate to conduct orchestras in Baltimore and Naples, and a few others, which either performed live or were recorded for broadcast. He spent countless hours re-voicing and re-writing for differing instrumentations, which included works by Chabrier, Albeniz, and more. I assisted with the part preparation & printing, and it was quite a mammoth task indeed.

For a couple of my other clients, I did all the re-orchestration work myself – perhaps the orchestra was only using single wind players, single brass players, 9 total string players, piano, rhythm bass, and drum set. Making sure all the harmonies were covered while a soloist still felt supported was tricky, but I do enjoy a challenge. I've heard that all of the audiences were thrilled and grateful to hear a live orchestra, even if a reduced size.

However, there is nothing that compares to hearing a full symphony orchestra playing music as it was intended to be experienced – with all the strings, winds, brass, percussion, and more – filling an auditorium with glorious live sound, full of emotion and beauty. We, along with our audiences, will be so very grateful when this reorchestration is no longer necessary.