Career Reflection: Ingrid Fischer Bellman
Looking back on 40 years of playing, I feel it is impossible to choose one single memorable event to summarize my career. Each day, be it a rehearsal or a concert, I experienced so many memorable moments that I cherish: hearing a stand partner turn out a beautiful phrase, the pleasure of creating a lush sound as a string section, noticing the brilliant and evocative solo playing from the winds, or being inspired by a section from across the stage setting a perfect mood for our entrance, even the clarity of perception that follows an illuminating comment by the conductor. All these experiences have become a treasure chest of knowledge, the basis for my understanding of ensemble playing, music, and teaching.
However, if I have to mention one concert, it is the concert the orchestra played in Barcelona in the Palau de la Musica. When I started playing the cello, I was introduced to Pablo Casals's recordings and deeply admired his noble artistry and vitality of interpretation. Barcelona was the city where he studied, taught and performed. Performing in that beautiful hall made me feel close to what motivated me to become a cellist. I felt inspired and empowered in a magical way.
In the Spring and Summer of 2020, the restrictions caused by the Covid pandemic greatly altered everyone's lives, but the shared experience also revealed an abundance of resourcefulness, strength, talent, and ability of our musician colleagues that blossomed into multiple on-line creations and outdoor concerts connecting the musicians with their community. Going forward, that strength and resourcefulness needs to be recognized and nurtured by the management and musicians, as it has resulted in a valuable increase in the ties of the ISO with the diverse communities of our city. I hope that these types of performances continue as my colleagues return to work.
To support a career in music, it was necessary to make many sacrifices! For example, my first cello teacher demanded that I stop dance lessons to focus more on cello, even though I feel that dance is so clearly related to music.
But leaving my home country of Israel in order to pursue further studies and opportunities abroad was extremely challenging. In 1976, I moved to Bloomington to study with Janos Starker, but my mother passed away suddenly that June. It was a very hard blow, but her wish was that I shouldn't interrupt my studies by returning home. I was lucky that her best friend, my godmother, lived in the Bronx, and she provided me with a home away from home, where I was always welcome during vacations and holidays. Although my move to Indiana resulted in hardships, some positive and happy outcomes resulted as well.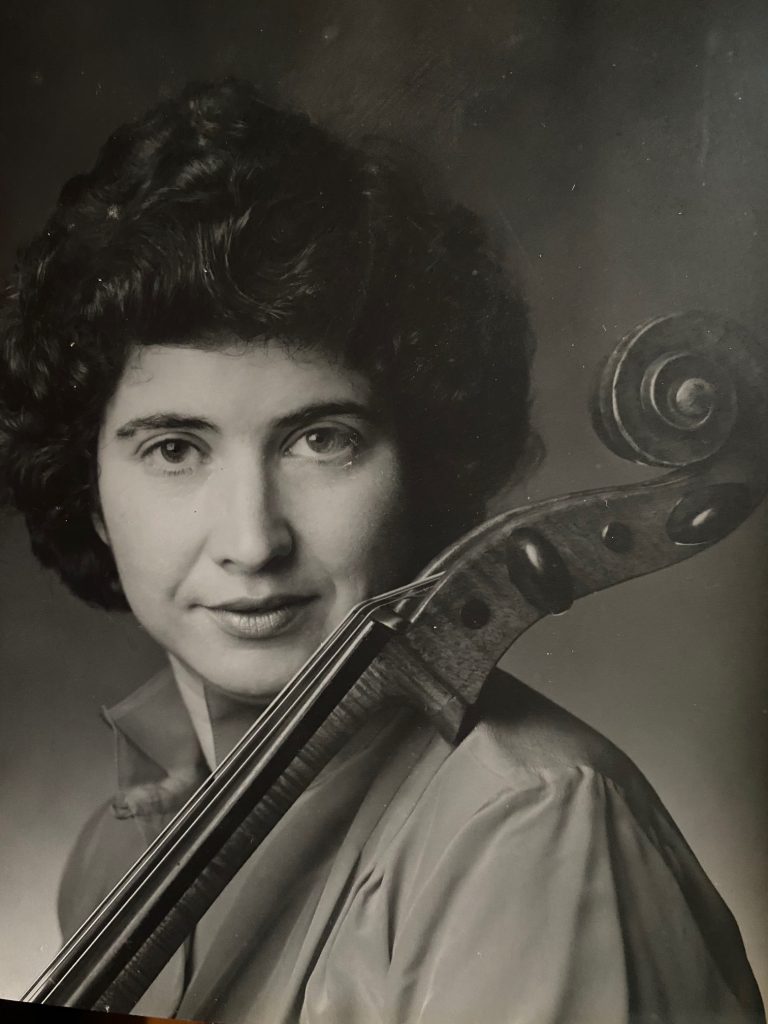 Recently, I had been intensely searching for an instrument that would be my musical soul mate. It needed to have that quality of sound I yearn for, be a good fit for my size, and be affordable as well. During my career I played on six different cellos until about ten years ago when I finally found an Antonio Gagliano cello made in Naples in 1823! Its full string length requires that I stretch my left hand a bit more than comfortable, but the body of the instrument is slender and easy to get around. This cello rewards me with sounds that are noble and sincere.
The physical and mental demands on performers are huge, requiring discipline, an ability to learn vast amounts of repertoire quickly and accurately, and the physical shape to be able to keep up with the challenging schedule. It also helps to be gracious and willing to collaborate and execute with conviction musical ideas that are not necessarily our own.
Following the model of my teacher, Janos Starker, I find fulfillment in teaching. Sharing with students, like sharing with an audience, demands sincerity, devotion and generosity. I plan to continue doing both performing and teaching even after retiring from the orchestra.
I wish my colleagues great fulfillment in being close to the music we love!