This month, we want to give you a glimpse into how we have been keeping up with our orchestra family while we are apart. It has been incredibly important for us to continue performing for our audience and supporters, so we have been working on a few important projects while the Hilbert Circle Theatre is unavailable.
By far, the largest project we have undertaken is our series called Music in a Time of Distance. In the last month, we have convened our orchestra membership twice to put together performances that you can listen to on our various platforms. To begin, we chose the second movement of Beethoven's Eighth Symphony.
This particular selection was a little bit of an inside joke, as the second movement is alleged to have been an homage to the inventor of the metronome, Johann Maelzel, who was a friend of Beethoven's. In general, these recordings involve each player performing his or her part while listening to a "click track," which consists of a reference recording and a metronome track. The steady beat helps us stay together since we don't have the usual visual cues that we would normally rely on.
For more information on how we undertook this task, check out this article that IndyStar reporter Domenica Bongiovanni wrote in April.
As soon as we published our Beethoven performance, work started immediately on the Largo movement of Dvorak's Ninth Symphony. This beautiful movement is special to us not only because it is beautiful, but also because we had an opportunity to feature Roger Roe, our english horn player.
It really brings us great joy to bring this music to you, despite the technical limitations. We can't wait to be back on stage bringing you this music live.
---
You may remember reading about an orchestra party in the Fall to welcome some new players. In fact, every time a group of new players joins the orchestra, we all convene together with a potluck to welcome them to the family. We had originally scheduled a get-together for late April.
Unfortunately, the in-person festivities had to be postponed, but we decided to bring the party into our homes through Zoom! It's disappointing to be separated by such distance, but truly amazing that we are still able to celebrate the new members to our group.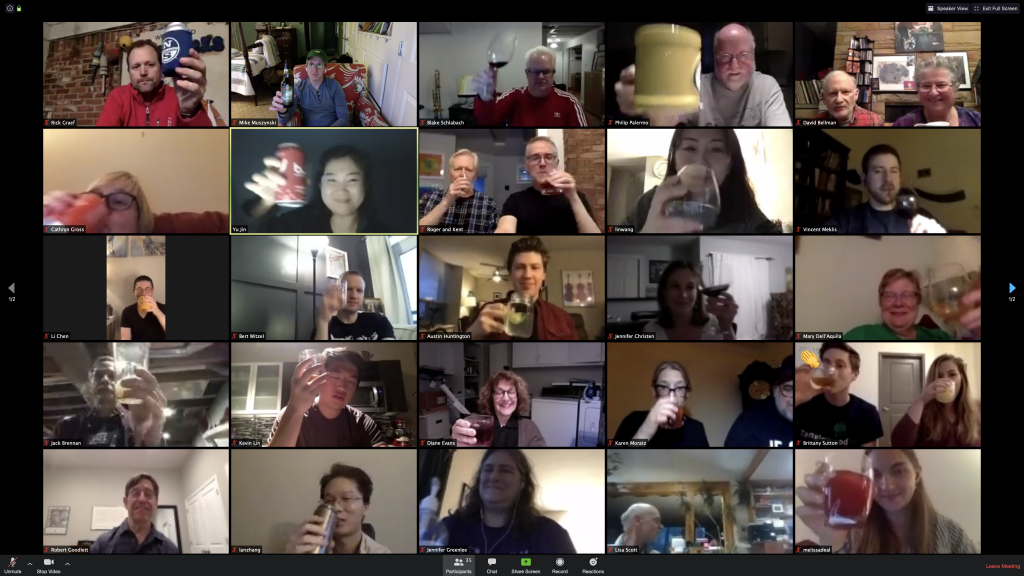 ---
Finally, despite the rules on social distancing, we recognize the need that many Indianapolis organizations have for volunteer work. While some of this work has been possible to do from home, many of our members have been providing support in the community in accordance with the guidelines from the State of Indiana.
Three musician-couples (who are quarantined together, of course) provided music to the Marianne Tobias Music Program at the Sidney & Lois Eskenazi Hospital, which normally holds live concerts in their lobby that are streamed to patient's rooms.
Currently, the live, in-hospital portion of the program is canceled, but duet groups consisting of violinists Michelle Black and Joseph Ohkubo, oboist Roger Roe and pianist Kent Cook, and violinist Lisa Scott and cellist Perry Scott all recorded music in their homes for use in the program.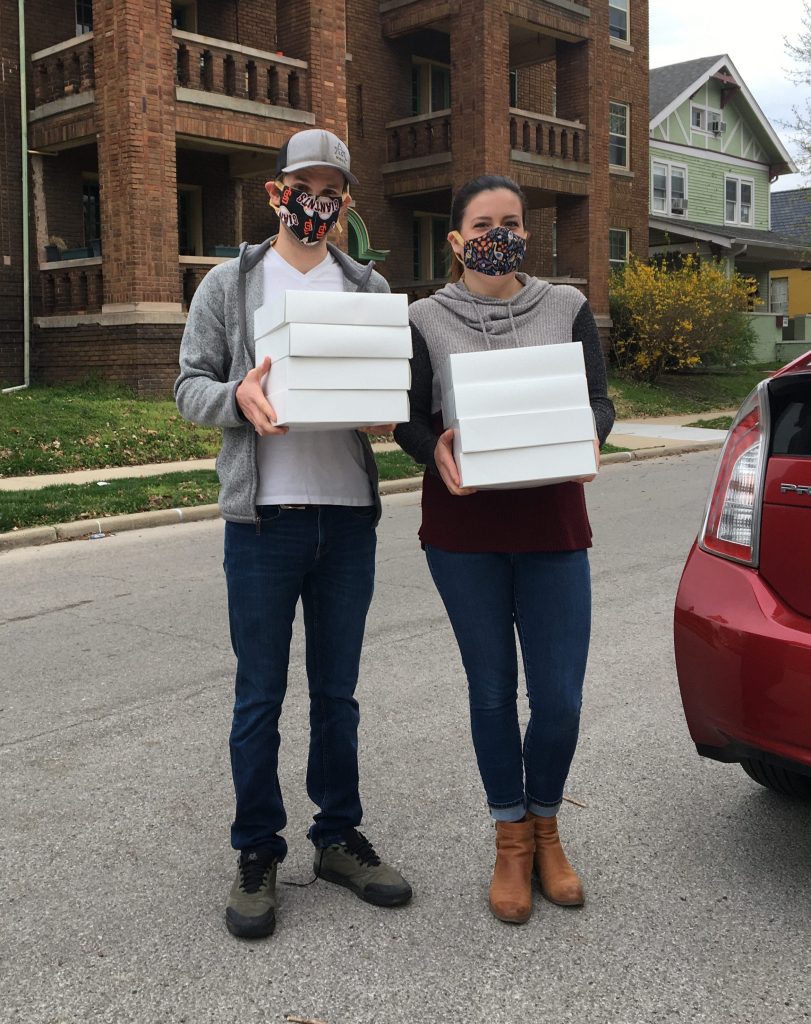 We have also continued our relationship with Gleaners Food Bank of Indiana (until their partnership with the Indiana National Guard) and added the St. Vincent de Paul Food Pantry to the groups we volunteer with. There even has been a local addition, as Perry and Lisa Scott purchased a donation of baked goods from A Cook in Your Kitchen, a food and meal-prep service run by Sarah Cook (a regular sub in our violin section). The Scott's purchase was then donated to the Central Christian Church food pantry.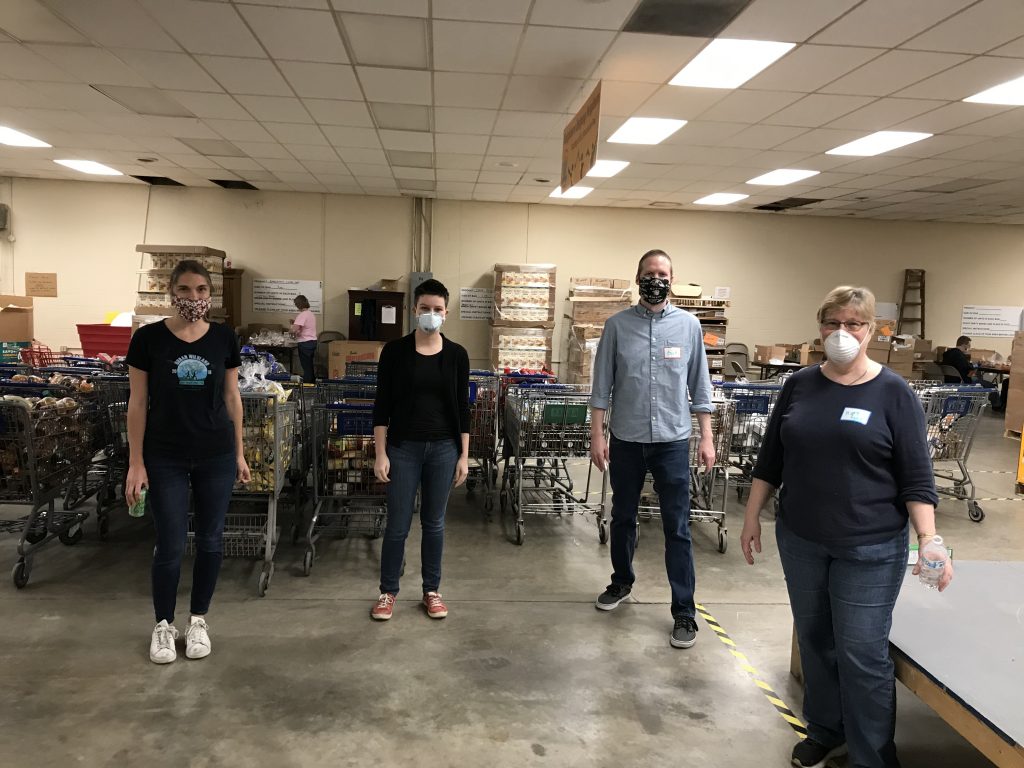 ---
To close, we want to wish all of our readers and supporters good health and good spirits! While it is so much more difficult for us to share our music with you right now, it brings us great joy that we have been able to connect across the distance. The messages you send us and the connection we are able to maintain with the city are so valuable to us. We can't wait to invite you into our musical home again, but until then, please keep looking for us on social media and around town!